The San Diego housing market remains at the forefront of the California housing sector.
It was hit hard by COVID-19, but it soon came back with a vengeance. In the wake of this disaster, there were many people that thought they would never be able to buy or sell again because their situation had become so dire. Despite the odds being against buyers and sellers alike, the momentum gained in previous years was brought to a halt only temporarily. It was as if someone turned off a switch just before completion, then suddenly upon turning said device on once more, everything resumed without any obstacles getting between one's goal (whether it was buying or selling).
The San Diego Housing Market Overview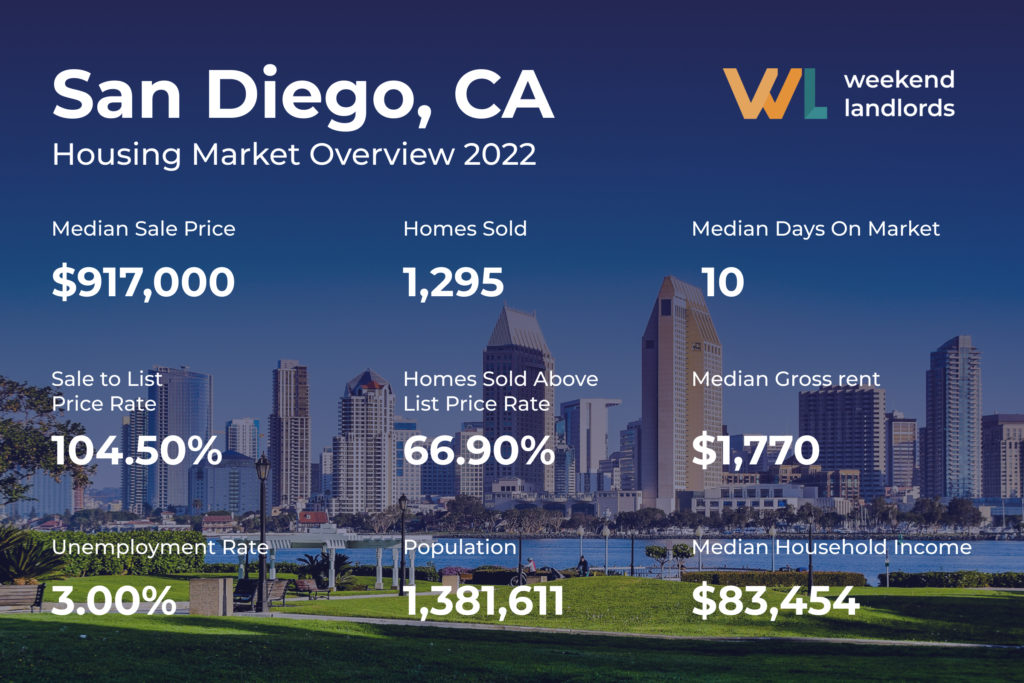 Local home prices are nearly three times that of the national average, and the pent-up demand created by the pandemic has stimulated a healthy amount of activity. Pending sales are on the rise despite historic valuations that are set by competition. While demand persists, it appears an equal number of sellers don't yet have the confidence to place their homes on the market. Prices have been increasing steadily over the last year.
Housing Market Predictions
Looking to the remainder of 2022, we predict that the San Diego housing market will continue to be strong. The combination of low interest rates and high demand will keep prices rising, although at a slower rate than we've seen in the past year. Housing inventory will also increase as more sellers enter the market, giving buyers more options to choose from.

The low interest rates have created an environment that is perfect for buyers. With so many people unable to find a job or even leave their house because of the pandemic, it's no wonder demand has increased dramatically in recent months.
Borrowing costs are at historic lows, which makes borrowing easy, with cheap mortgages available on 30-year fixed rate loans.
Overall, we expect the San Diego housing market to remain robust and healthy in the coming months.
What This Means for Buyers and Sellers in San Diego
For buyers, this means that it's a good time to buy a home in San Diego. Prices are expected to continue to rise, although at a slower rate than we've seen in the past year. Housing inventory will also begin to increase, giving buyers more options to choose from.
For sellers, this is an excellent time to sell, as well. Prices are rising and there is high demand for housing in San Diego. Sellers may be able to get a higher price for their home than they would have a few years ago.

The Drivers of the Housing Market in San Diego
There are several key drivers of the housing market in San Diego. The first is population growth. San Diego is a desirable place to live, and as more people move to the area, the demand for housing increases. The second driver is job growth. As more businesses relocate or expand to San Diego, there is an increased need for housing for employees. Lastly, the low interest rates we've seen over the last few years have made buying a home more affordable for many people, which has also contributed to the strong housing market in San Diego.
Tips for Those Looking to Buy or Sell in San Diego
The San Diego real estate market has developed a reputation for providing investors with attractive returns. There exists a unique combination of demand, economic strength, and value catered to those looking at investing in property, as well as rehabbers who have enjoyed a lucrative run since the recovery took hold about 10 years ago. The city's population continues to grow, which means there will be more people buying houses than ever before.
San Diego is an ideal place to invest in real estate, especially for those who are willing and able. It's possible that you could make money anytime due to its proximity to San Diego, so long as prices don't tank first. Rehabbers might find themselves competing against high-end home buyers, but opportunities exist where they can still come out ahead financially, even if times get tough.
Rehabbing homes in San Diego has become more difficult over the last year. The reason? Values of real estate are on a steady rise, which means that rehabbers are replacing worn out houses with newer ones, but still are purchasing high-quality construction materials rather than investing their money into buying cheaper properties where profits could be higher.
For those looking to buy a home in San Diego, we recommend working with a real estate agent to find the right home for you. It's also important to be aware of the housing market trends in San Diego so that you can make an informed decision about when to buy.
For those looking to sell a home in San Diego, we recommend working with a real estate agent to get the best price for your home. It's also important to stage your home and make any necessary repairs or renovations before putting it on the market.