With a population of over 7 million residents, Dallas is the third-largest city in Texas and the ninth-largest in the United States. It is situated in the North Central region of Texas, approximately 35 miles from Fort Worth, 245 miles from Houston, and 300 miles from the Gulf of Mexico.
Dallas is quickly becoming a popular choice for real estate investment due to its thriving economy and diverse range of industries. The finance, technology, healthcare, and energy sectors are among the key drivers of the city's economic growth, attracting businesses and entrepreneurs from all over the world.
Originally established as a marketing center, Dallas still plays a significant role in the wholesale commerce of apparel, gifts, and furniture. The city is home to the Dallas Market Center Complex, a massive 150-acre complex located in the northwest sector of the city that hosts numerous trade shows annually.
Furthermore, the city's central location in Texas and well-connected transportation network offer easy access to major markets and make it a hub for trade and commerce. With a thriving job market, a growing population, and an abundance of recreational and cultural amenities, Dallas provides an exceptional quality of life for residents and offers promising opportunities for long-term real estate investment.
Dallas' Housing Market Forecast 2023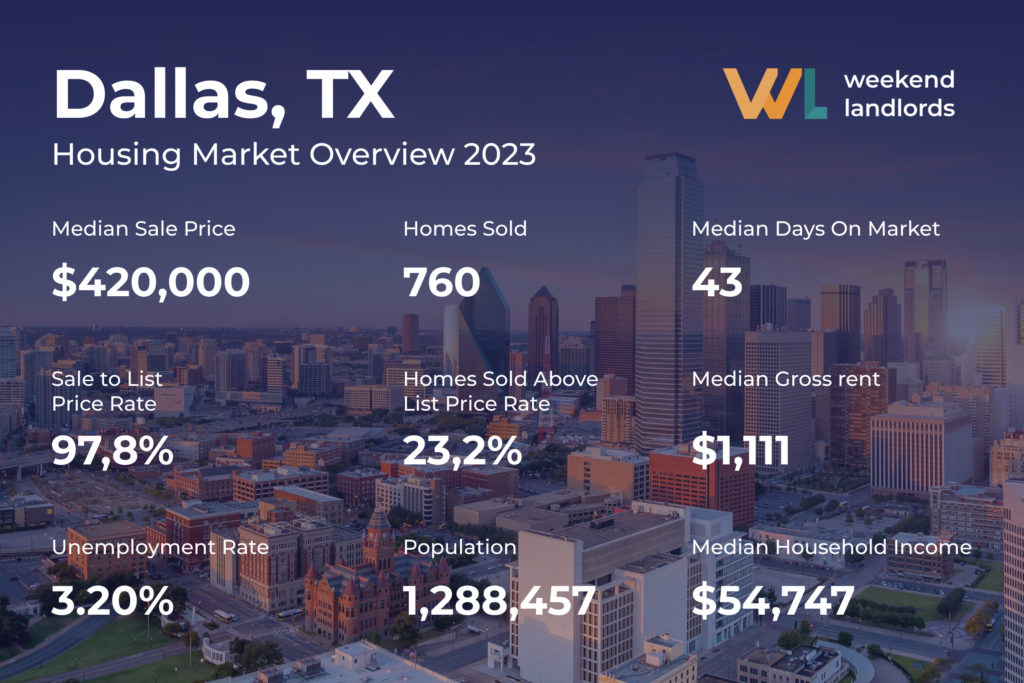 The Dallas housing market is grappling with the effects of mortgage rates and recession fears, causing buyers to make cautious financial decisions. On the supply side, building permits and housing starts are decreasing, while home prices are being corrected and the inventory of homes has significantly increased compared to last year. Despite this, sales volume indicates that buyers are feeling less panicked than during the pandemic, and key indicators such as days on market (DOM) and months of inventory (MOI) are returning to pre-pandemic levels. The market's recent decline can be largely attributed to interest rate hikes, which are also affecting other markets across the country.
In 2022, the number of homes started by builders was just under 49,000, reflecting a 16% decline from the previous year. The declining trend has persisted, with only 8,000 new home starts initiated in the fourth quarter of the year, representing a notable 38% drop from the same period the year before.
Although the 38% decrease may sound concerning, it is not as dire as it may seem, considering the rapid growth of new construction in recent years. Nonetheless, the statistic has attracted attention as the most significant decline in new home starts between quarters since 2009.
The Dallas housing market saw median home prices increase by 5.0% to $420,000 in February 2023, but homes took longer to sell, averaging 43 days on the market compared to just 21 days the previous year. The number of homes sold also declined to 760, representing a decrease from the same period in 2022 when 965 homes were sold.
Recent data reveals that, in the past 30 days, homes in Dallas, TX sold at a median sale-to-list-price ratio of 97.1%, representing a decline of 2,8 percentage points compared to the same period in the previous year. The percentage of homes selling above their list price was only 17,3 %, indicating a significant decrease of 31.5 percentage points year-over-year. Additionally, 35.1% of homes listed had to reduce their asking price, representing a substantial increase of 12,1 percentage points compared to the previous year.
Despite these challenges, Dallas remains a prime location for real estate investment, buoyed by its strong economy, varied industries, and favorable tax climate. With a growing population and high demand for housing, investors can find promising opportunities in the Dallas market by carefully analyzing local trends and identifying neighborhoods with the potential for strong returns. By staying informed and taking a calculated approach, investors can leverage the growth and potential of the Dallas housing market to achieve long-term success.
Is it the Right Decision to Purchase a House in 2023?

Deciding whether to buy a house in 2023 depends on individual circumstances and long-term plans. Currently, the Dallas housing market is showing some vulnerability, with home prices anticipated to decrease significantly, possibly even dropping.
Nevertheless, the projected decline in prices is predicted to be brief and could help stabilize the market, which has undergone an unprecedented price increase over the past 18 months.
However, those planning to sell their property in the next few years should exercise caution, as the Dallas real estate market may have reached its peak in terms of pandemic-driven growth, and prices could level off or even decline in the coming year.
Investing in rental properties in Dallas can be a lucrative opportunity, but it's important to approach it with caution and careful research. Choosing the right location for your investment is a critical step towards ensuring its success. Dallas is a large and diverse city, with many neighborhoods that each offer unique market dynamics. To maximize your returns, it's essential to identify neighborhoods with high rental demand, low vacancy rates, and the potential for strong appreciation. Achieving this requires a comprehensive analysis of the local real estate market, including factors such as population growth, employment rates, and rental prices. By selecting the right location, you can position yourself for success in the competitive Dallas rental market and realize significant returns on your investment.