Denver's housing market has been on the rise for the past few years, and it shows no signs of slowing down. The city has seen strong real estate growth for the better part of a decade, and is less susceptible to volatile shifts brought about by events such as the Coronavirus pandemic. Positive indicators including population growth, job security, and low interest rates are all working in Denver's favor, making it an attractive place to buy or invest in property. With prices expected to continue rising and inventory remaining tight, those who act now stand to benefit greatly in the coming years.
Denver's Housing Market Forecast 2023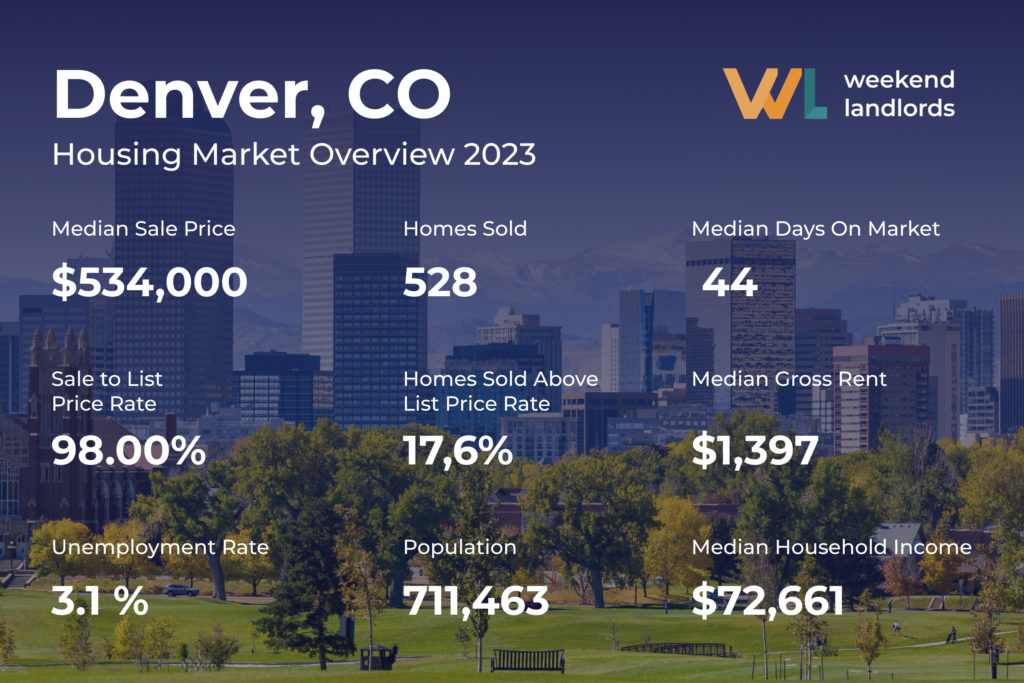 As of January 2023, Denver's housing market witnessed a 1.3% rise in median home prices, with homes selling at an average price of $534K. Compared to last year's average of just 8 days, homes in Denver are now sold after an average of 44 days on the market. Additionally, the total number of homes sold in January 2023 was 528, which is lower than the previous year's figure of 783.
The Denver real estate market may face some challenges in 2023, as predicted by experts. Despite having a history of being one of the best long-term real estate investments in the U.S., the city's strong economy has led to an increase in home prices, making it less affordable for people with median incomes to buy homes.
According to the Denver Metro Association of Realtors (DMAR), the Denver housing market may experience uncertainty in 2023, with buyers and sellers being cautious about making decisions. The first half of the year could be challenging due to economic recovery, but the housing market is expected to stabilize as conditions moderate in the second half.
Inventory fluctuations are an indication of market direction, with many homeowners hesitant to sell due to the risk of losing their low mortgage rates. However, there will be some "must move" vendors, which could help reduce inventory and slow down property value declines.
The second half of 2022 saw a drop in closed transactions, and 2023 is expected to follow the same pattern, with 8% to 13% fewer closed deals than in the previous year, resulting in a decline in real estate activity. Overall, the Denver real estate market is expected to face some challenges in 2023, primarily due to economic uncertainty and inventory fluctuations.
Influential Factors for the Denver Housing Market
Economic Conditions
The Denver housing market is heavily influenced by economic conditions. Strong economic conditions, with higher disposable incomes, lead to an increase in housing demand, which can trigger a rise in home prices as buyers compete for limited inventory. Conversely, weaker economic conditions result in a decrease in housing demand as people have less money to spend on housing. This decline can translate into a decrease in home prices as sellers compete for fewer buyers. Economic conditions can also affect mortgage rates, making it harder for buyers to afford homes or enter the market. The job market is another significant factor as job opportunities can attract more people to the city, increasing housing demand, while a weak job market can lead to people leaving the area, decreasing demand and ultimately leading to lower home prices. Therefore, understanding the economic conditions is essential for buyers, sellers, and investors in the Denver housing market.
Demographic Trends
The Denver housing market is affected by various demographic trends that are crucial in determining housing demand, supply, and home prices. Population characteristics such as age, income, and lifestyle play an essential role in shaping the housing market. For instance, millennials are the largest home-buying generation, and this has shifted the market towards more affordable, low-maintenance, and eco-friendly homes. Changes in household composition, such as an increase in single-person households and multi-generational families, have created a demand for smaller, more flexible living spaces. The influx of people from other states has also led to a rise in demand and a subsequent increase in home prices in Denver. This trend has triggered new housing construction and the development of mixed-use communities to cater to the growing demand. Finally, demographic trends impact the rental market, with more young professionals and students opting to rent instead of owning homes. In conclusion, understanding demographic trends is critical for buyers, investors, and developers in making informed decisions in the Denver housing market.
Supply and Demand
The Denver housing market is heavily influenced by the principles of supply and demand. The availability of housing in Denver is limited by factors such as construction costs, zoning laws, and available land. Meanwhile, demand for housing is driven by population growth, job opportunities, and migration patterns. When demand outstrips the available supply, home prices tend to rise as buyers compete for limited inventory. In contrast, if the supply exceeds demand, home prices may fall as sellers compete for fewer buyers. Supply and demand imbalances can also impact housing inventory levels, sales activity, and rental prices. A tight housing market, with high demand and low inventory, may lead to bidding wars and more buyers deciding to rent instead. In contrast, a market with a high inventory level and low demand may lead to lower home prices and an increase in rental vacancies. Understanding the interplay of supply and demand is essential for buyers, sellers, and investors in making informed decisions in the Denver housing market.
Is Denver an Attractive Market for Investing in Rental Properties?
The lively atmosphere in and around Denver is a testament to its popularity among residents and tourists alike. This has translated into a persistent increase in demand for permanent and short-term housing, which makes Denver's real estate market an attractive and prudent option for real estate investors to explore.
Denver's rental market is experiencing a surge, with approximately one-third of its population opting to rent their housing. Housing prices are escalating at a faster pace than wages due to a shortage of available inventory. Furthermore, the younger generation's preference for renting over owning has resulted in an increased demand for rental properties in Denver. As a result, it has become profitable to divide larger homes into multiple apartments to cater to the housing demand.
Compared to other Colorado cities like Fort Collins and Colorado Springs, as well as major metropolitan areas like Phoenix and Charlotte, Denver's rental prices are relatively high but still considerably lower than California's leading rental markets.
When compared to the West Coast, Colorado is known for being more landlord-friendly, making it an appealing location for real estate investment. Landlords in Colorado have the liberty to enter properties without prior notice, and evictions can be quickly initiated if rent is not paid, thereby protecting investments made in Denver's housing market. Additionally, late fees are not restricted by state laws.
Rekeying locks after eviction is permissible in Colorado, and landlords can serve formal notices to tenants who violate the lease. In such cases, tenants have 72 hours to remedy the issue or vacate the property. If tenants fail to comply with the notice, legal action can be taken, and if the court rules in favor of the landlord, tenants have 48 hours to move out before being forcibly evicted by the sheriff.
Denver's real estate market offers a promising investment prospect with a consistent appreciation rate. The market's strong performance is attributed to several factors, ensuring long-term growth potential. Real estate investors should take advantage of this opportunity to invest in Denver's flourishing and appreciating market.