Being on time with every opportunity and being able to scale up your business are top priority tasks for every successful landlord. You can make it a reality with the help of Property Management solutions.
Property Management Software is an efficient way that provides numerous features and solutions for every aspect of the real estate business for tenants, DIY landlords, and real estate agencies. Property management software helps landlords to: attract, screen, and manage tenants, as well as respond to their maintenance requests, accounting needs, and much more.
Buildium VS TenantCloud 2022 Software Comparison: Differences & Reviews
Property management software automates leasing, accounting, tenant management, and facilities management operations. This article helps you whether you're a landlord with a few rental properties or a property management company with hundreds.
We will be comparing two property management software providers to see which one better suits you depending on your portfolio size, the type of buildings and clientele you deal with, and your budget. Continue reading to learn about each company's strengths and shortcomings so you can discover your perfect fit.
TenantCloud is an effective cloud-based property management system for landlords who want to get the most out of their rental properties. TenantCloud is a free and comprehensive rental management service that gives landlords everything they need, including publishing advertisements, collecting rent online, rental applications, and screening applications – and everything in one place. This property management software with a user-friendly interface streamlines the whole rental process, from backend accounting to maintenance requests, to help landlords get more money from their rents.
Accounting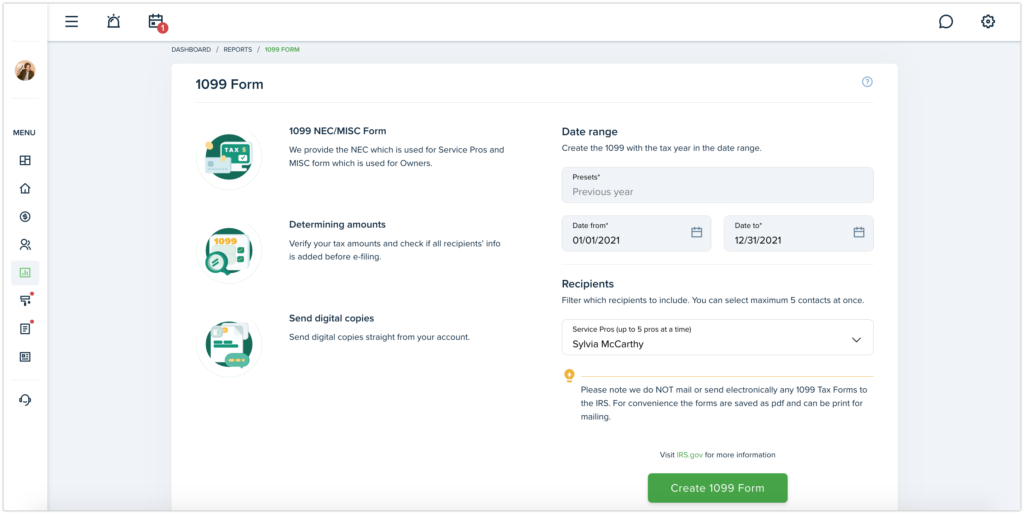 With the help of TenantCloud invoices, late fees, and receipts are all scheduled.
TenantCloud includes accounting tools like:
Automatic rent payments
Payment reminders
Vendor payments
Deposit tracking
QuickBooks integration
Tenant Screening and Rental Applications
Manage online rental applications in one easy-to-use location.
Online screening
Online Rental Applications
Leads Tracking Tool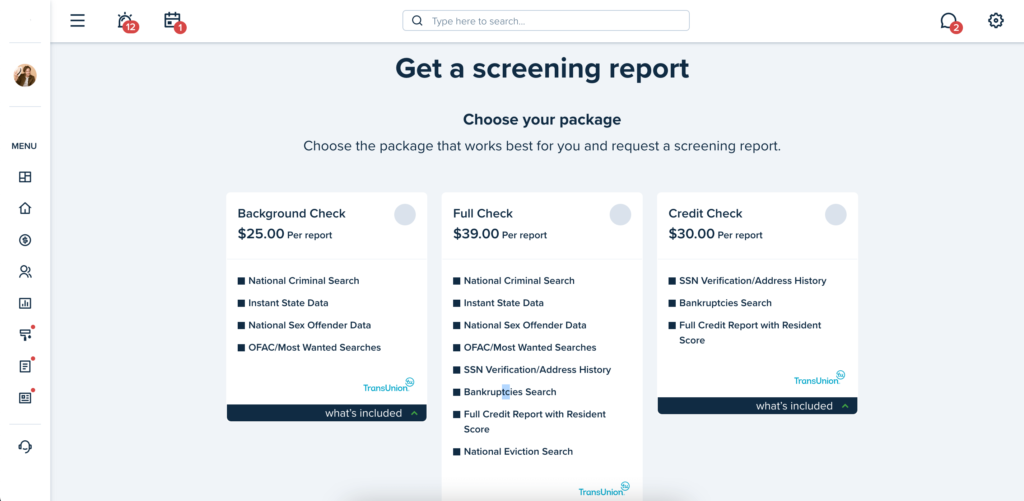 TransUnion SmartMove is used to power each of the three reports available.
Comprehensive Screening Report (39$ per report)
Credit Check (30$ per report)
Background Check (25$ per report)
Maintenance
Tenants may submit and monitor maintenance requests via TenantsCloud. Renters can also post videos and photographs, and both landlords and tenants can monitor the work of contractors. For every work order, you may create and submit invoices. TenantCloud also has a dedicated platform for service professionals. Maintenance professionals may then make direct contact with renters and build a business profile in the TenantCloud network to advertise their services.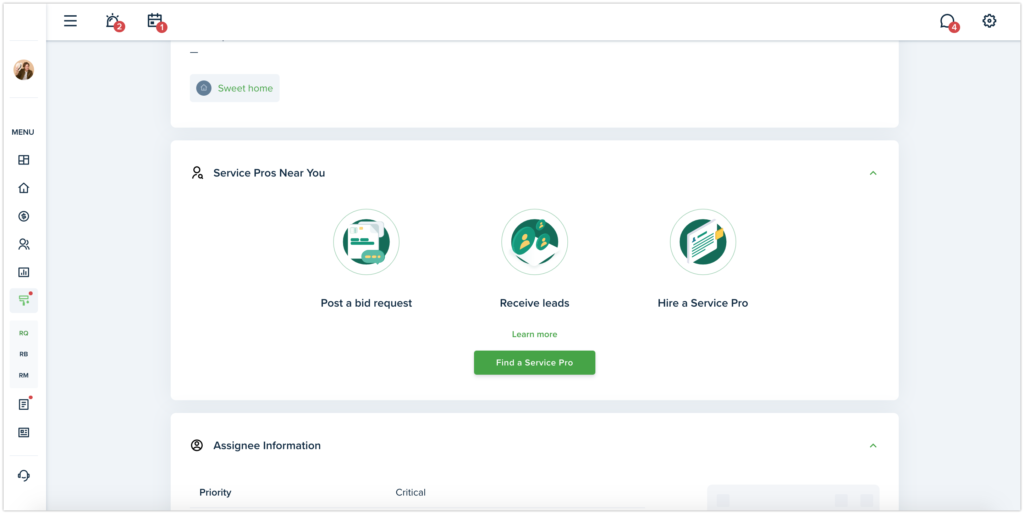 Lease Agreements and E-signing
TenantCloud provides lawyer-approved digital lease agreements.
TenantCloud allows you to generate leases for multiple renters, which is practical in the event that you are dealing with many renters at once. E-signing is also available with paid subscriptions.
Customer Support
You may get in contact with a customer support agent via the site's built-in chat. You can also browse information and guidelines on how to best utilize the TenantCloud landlord platform on hundreds of support pages on the website. Landlords may also receive responses to their inquiries by calling the toll-free customer service line, which is available Monday through Friday from 9 a.m. to 5 p.m. Central Time. Customers with the Business Plan also receive priority technical support and phone support.
Mobile Functionality
Landlords can manage their properties on the go using TenantCloud's applications for Apple and Android smartphones.
Online Rent Collection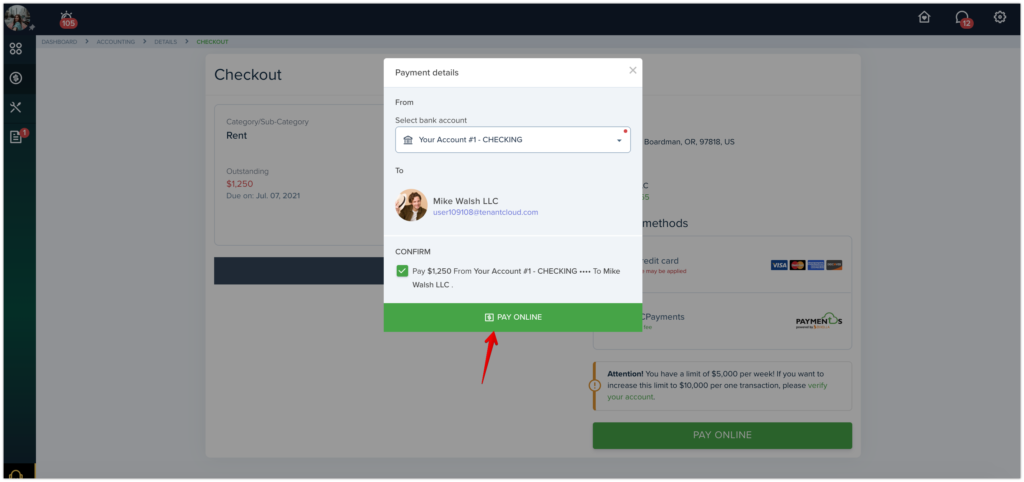 All membership plans include the ability to collect rent online from a desktop or mobile device. Tenants can pay via the TenantCloud platform on their computer or by downloading the free TenantCloud app. Users may also set up AutoPay to have their monthly payments made automatically.
Financial Reporting
TenantCloud makes end-to-end accounting simple. TenantCloud will take care of the rest after the user lease is set up, including automatic invoicing, late fees, and receipts.
Users may easily transmit all of their financial info to their accountant in time for taxes, or simply to stay up-to-date. Paid plans integrate QuickBooks. Users may save and download their "books" as an Excel, PDF, CSV, or Numbers file in every plan.
Pricing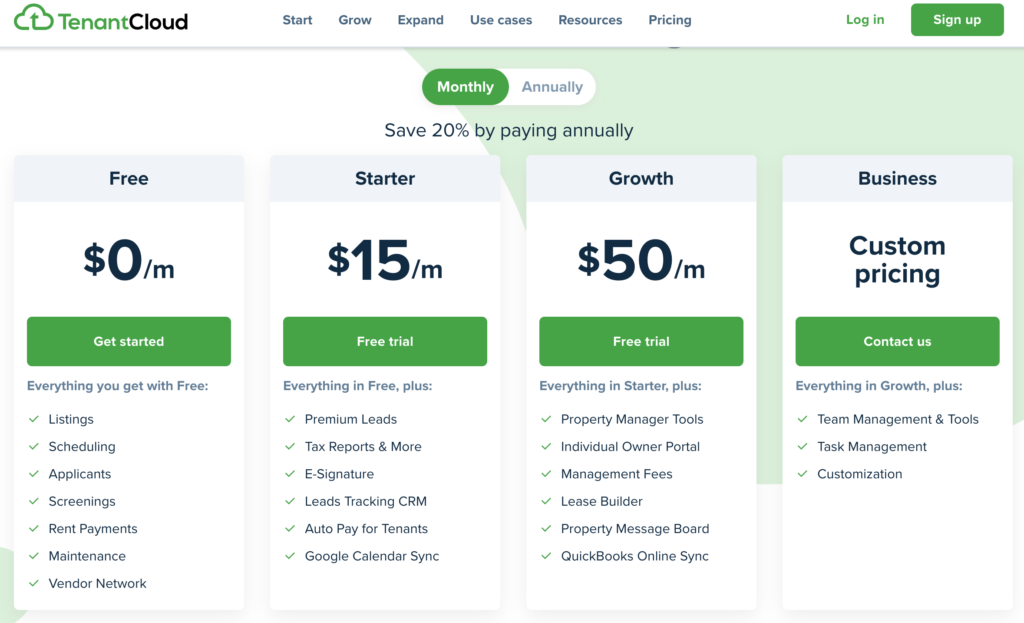 Each higher tier plan incorporates all of the previous plans' features as well as additional functions. Let's take a closer look at each and the features it includes:
The Free plan is a perfect chance for people who are just starting in the real estate industry. Screenings, Debit & Credit Rent Payments, Maintenance Management, and many more services are available to landlords.

The Starter Plan includes additional services such as ACH Rent Payments, E-signature, Auto-Pay for tenants, Premium Leads, and more.

The Growth plan is suited for landlords with small and medium-sized portfolios. For a $50 monthly subscription, the Growth Plan offers all prior plan features as well as advantages such as Team Management & Tools, Custom Domain, Team Tracking, Task Management, Team Calendar, and more.

The Business Plan is an excellent choice for a property manager who manages staff. It is beneficial to individuals who require team management tools regularly. The Business Plan opens up a world of possibilities at the disposal of the landlord and their staff.
Unique Features
TenantCloud is among the few property management software solutions with a free plan. It's thorough, running smoothly for an unlimited number of units and listings, and you may upgrade to a Growth Plan at any given moment if you choose to expand your business.
TenantCloud is the only program for landlords with less workload that is both cost-effective and helps handle maintenance concerns by integrating service professionals into the system.
The TenantCloud app allows handling all of your maintenance requests from your smartphone.
Buildium, a Real Page company, offers a cloud-based property management solution that allows managers of residential and corporate properties to manage every area of the business, including online rent payment, vacancy management, maintenance cycles, and accounting, whether they are in the office or completely remote. A free marketing website, fresh leads, property inspections, tenant screening, E-leases, online payments, reports, and assistance are among the other top features.
Accounting
Buildium comes with a complete package of accounting tools, including: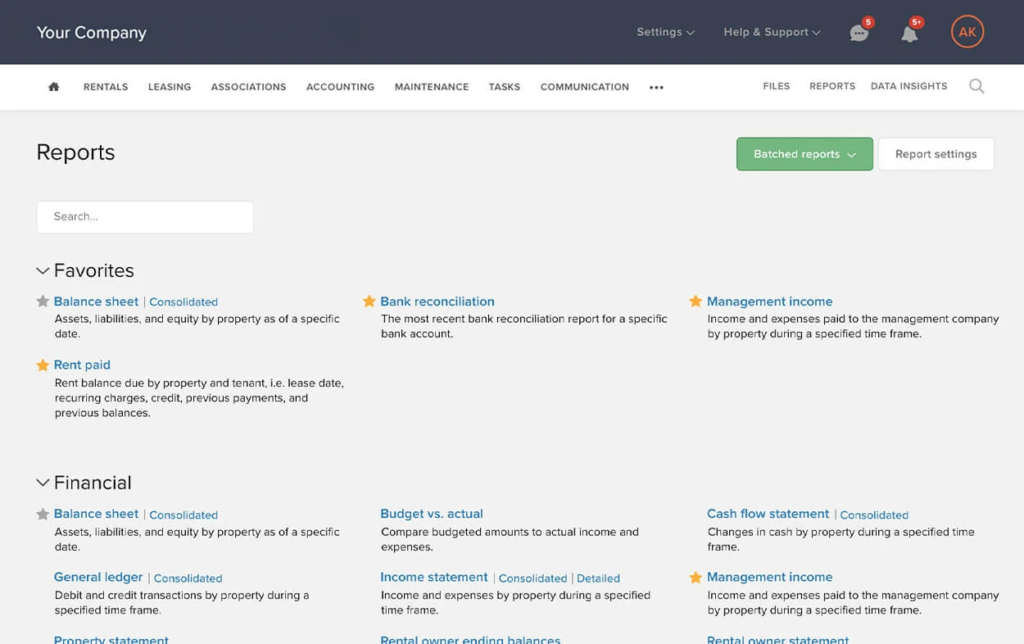 Multiple payment methods (credit card, ACH)
Automatic rent payments
Bank reconciliations
Payment tracking
Tenant Screening and Rental Applications
There is a choice of funding the cost of Tenant Screening yourself or passing the fee on to the applicant and having TransUnion bill them directly.
Basic Tenant Screening – as a Buildium customer, you will be charged a discounted fee of $15 for each screening if you wish to cover the costs.
The applicant will be charged $30 each screening if you wish to pass the expense on to them directly, in which case you will not be charged for the screening.
A thorough credit report with credit score, a complete background check and identification verification, an eviction history record, and an automated connection to your rental application will all be included in each credit and background check.
Premium Tenant Screening – is available only in Growth and Premium plans. You will be able to screen tenants without the requirement of applicant participation and obtain credit, criminal, and eviction records in minutes.
Maintenance
Users can generate maintenance orders, attach videos and documents, and submit them to suppliers using Buildium via smartphone or PC. They can also obtain status updates for work orders that have been issued from their phone.
When maintenance orders are completed, you may pay suppliers directly from the Buildium app, which allows you to manage everything in one convenient location.
Lease Agreements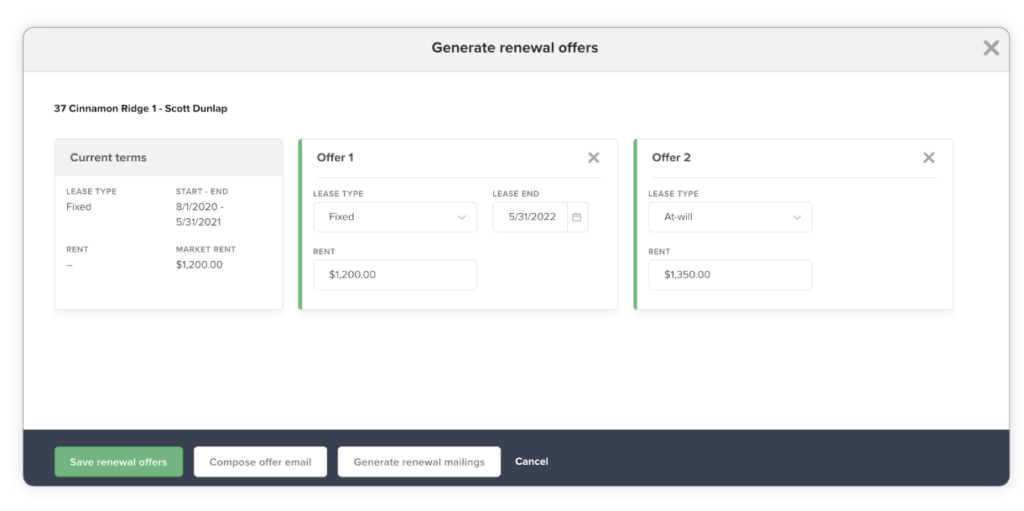 The whole leasing procedure is accessible online, and users may collect the signatures of applicants from any device. Users will be informed when all requested signatures have been received, so they know when it's their turn to countersign.
Customer Support
All Buildium clients have access to technical support via a support ticket. You may anticipate that you will receive a response within 24 hours if you file a support issue.
Only the Growth and Premium plans include live assistance. This service is ideal for situations where you would like immediate help.
On-demand priority help is also available from the vendor. This option is part of the company's Premium plan, although it may also be acquired through the Growth plan.
Mobile Functionality
Landlords can manage their properties on the go using Buildium's applications for Apple and Android smartphones.
Online Rent Collection
Landlords can accept rent payments via different methods, including credit card and ACH payments, with Buildium.
Buildium automates payments across the app using its own ePay platform, whether it's payments collected from renters or paid to suppliers and owners.
Financial Reporting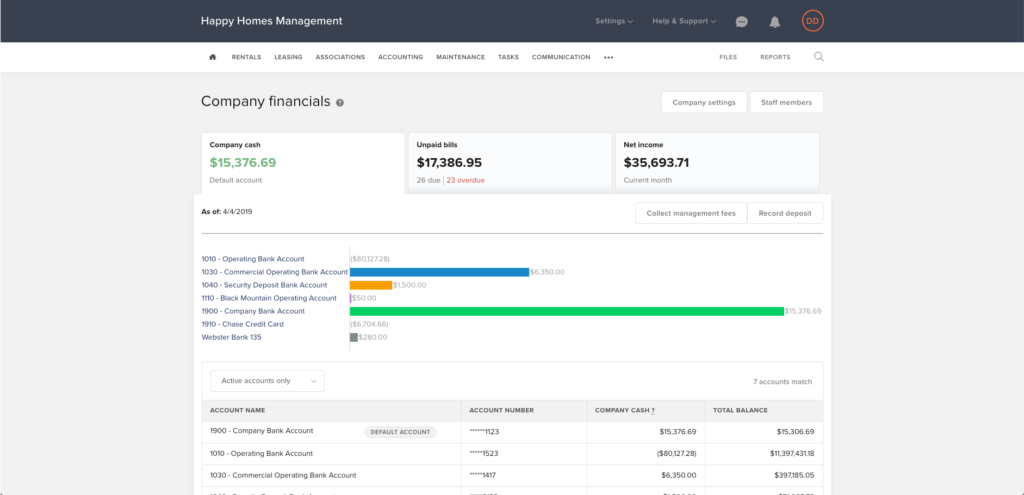 Accounting, budgeting, and reporting functions are included in every subscription, making it simple to keep track of all units. You can track: payments, deposits, and refunds, as well as write notes if need be on the accounting dashboard.
Create reports from the dashboard to help better understand the company's finances. Buildium's built-in calculators allow turning work orders into bills and making payments to contractors and vendors when it's time to pay bills.
Pricing
Every higher tier plan incorporates all of the previous plans' features as well as new ones.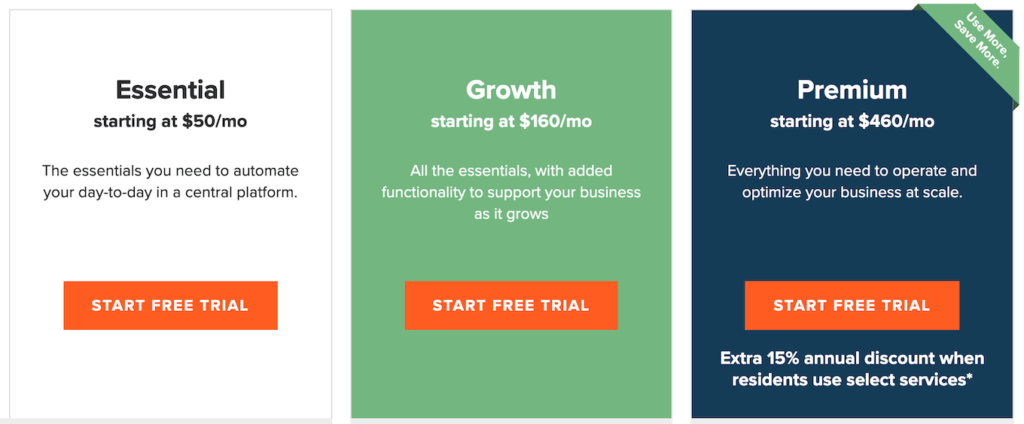 The Essential Plan starts at $50 per month.
The Growth Plan starts at $160 per month
The Premium Plan starts at $460 per month
Accounting, maintenance, assignments, infractions, resident and board member interactions, and online portals are all included in any price plan.
Unique Features
Buildium's mobile property inspection app is one thing that sets it apart from all its equivalents. Buildium has teamed up with HappyCo to provide the Happy Inspector app on the Buildium account. This helpful tool allows users to sync unit data from Buildium so that when they have a property inspection, their data is promptly updated.
Conclusion
Using property management software that helps operate rental properties with maximum efficiency, is what anyone really wants. Based on both software reviews we've looked at, these platforms can fulfill property managers' demands, allowing them to take total charge of their business without dealing with repetitive tasks.
Comparing the Buildium price to TenantCloud, Buildium is rather costly, particularly for small businesses, and is not suitable for DIY landlords. The good news is that Buildium offers a 14-day free trial so you can determine if it's the best fit for you. Otherwise, TenantCloud has a Free Plan. The free versions given by both software products we've mentioned above make it simple to try out the fundamental functions and determine whether they match your company's needs.