Relative to the expensive metropolitan areas of San Francisco, San Jose, and Los Angeles, Sacramento presents as a relatively affordable alternative. However, when viewed on a national scale, Sacramento remains classified as a high-cost metropolitan area. Nonetheless, recent developments in the local housing market suggest a decreasing trend in home prices, presenting a prospective opportunity for potential buyers to secure properties in the Sacramento region.
Sacramento's Housing Market Forecast 2023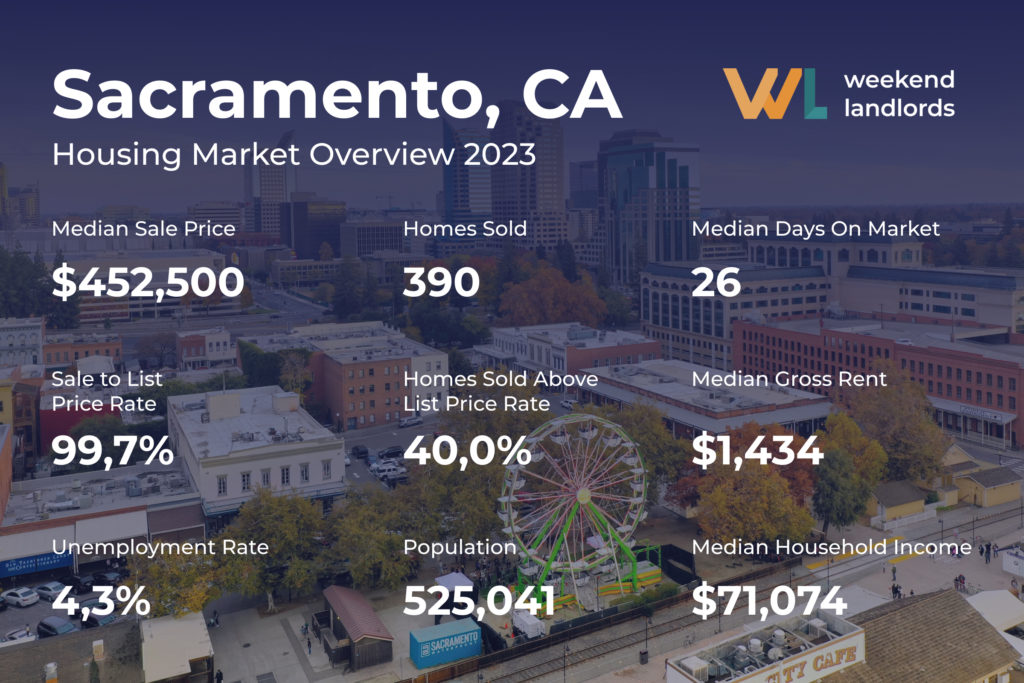 Median Sale Home Price
Based on data from Redfin, the median home price in Sacramento was $452,500 in March, reflecting a 13.0% decrease from the same period last year. In comparison, the median selling home price nationwide was recorded at $400,528, signifying a 3.3% decrease in comparison to the corresponding period in the preceding year.


Home Sales in Sacramento
The sales figures for March amounted to 390. In comparison to March 2022, which recorded 592 sales, the current value demonstrates a considerable decline of 34.1%.

Sale-to-List Price
Real estate negotiations often involve buyers striving for a sale-to-list price ratio in the vicinity of 90%, while sellers seek scenarios that can yield a ratio of 100% or higher. In the Sacramento housing market, sellers have demonstrated considerable leverage during negotiations, as evidenced by the sale-to-list price ratio of 99.7% witnessed over the past month.
Sacramento Housing Market: Is It a Good Place to Invest?
Following the establishment of Sacramento's location, it is pertinent to examine the reasons why real estate investors should consider the city as an investment destination. Real estate investing is a proven means of wealth creation, and as such, investors often ponder whether purchasing a property in Sacramento is a prudent investment. To gain insight into the market's trajectory for the year ahead, investors must undertake a detailed analysis of local trends and conditions that shape the city's real estate landscape. This approach enables investors to gain a nuanced understanding of the market's potential for long-term appreciation and to develop tailored investment strategies that align with their goals and objectives.
Growing population
The city has experienced notable population growth in recent years, driven by a variety of factors, including employment opportunities, reasonable housing options, and an elevated quality of life. As the population increases, so too does the demand for housing, creating opportunities for investors to take advantage of the potential appreciation of property values.
Growing economy
With its key industries, including healthcare, education, technology, and government, contributing to a favorable business environment, the city has experienced consistent job growth and displays positive economic indicators. This thriving economy buttresses demand for housing, creating opportunities for investors to capitalize on potential capital appreciation.
Affordable housing
In contrast to other major Californian cities, Sacramento's real estate market is characterized by lower home prices, rendering it more accessible to a broader spectrum of potential buyers. This cost-effectiveness can be attributed, in part, to the city's plentiful land supply for development, along with a rising population and a dynamic and diversified economy. As the population continues to expand, the demand for affordable housing is expected to surge, offering investors the potential to capitalize on the city's thriving rental market and yield promising returns. Furthermore, Sacramento's comparatively low property taxes and exemption from state income tax add to its allure as an affordable real estate investment destination.
Low vacancy rates
The low rates indicate strong demand for housing, offering favorable conditions for investors seeking to capitalize on the rental market. The city's stable and expanding population, robust economy, and diverse industries have contributed to a consistent demand for housing, translating into fewer unoccupied properties. Additionally, Sacramento's strong job market attracts more residents to the area, further reinforcing the demand for housing.
Public transportation improvements
The city has upgraded its transportation infrastructure, including the expansion of the light rail network, the introduction of a bus rapid transit system, and the implementation of bike-sharing schemes. The improvements have significantly improved access to different parts of the city, making it easier for residents to commute and access amenities. The reduction in traffic congestion has also bolstered Sacramento's appeal as a desirable place to live, contributing to a growing demand for housing.
Best Neighborhoods in Sacramento
The profitability of investing in a Sacramento property depends significantly on its cash flow. Positive cash flow generates profitability, while a negative one can result in a shortage of funds to repay debts. Therefore, investors seeking long-term success should identify the most promising investment property in growing Sacramento neighborhoods. Prudent investment in Sacramento's real estate market can lead to a profitable future.
Choosing less expensive properties in Sacramento can considerably reduce ongoing expenses. The most promising real estate investments in Sacramento are located in neighborhoods with high population density and employment growth, translating into strong demand for housing. Essential amenities, public services, schools, and shopping centers' proximity should also be considered when selecting the best neighborhoods for real estate investment in Sacramento.
While cheaper neighborhoods may seem like an attractive option due to their lower upfront costs, investors should evaluate the overall cost of living, rent-to-income ratio, and median home value-to-income ratio to identify the most promising location.
Sacramento, California is home to several popular neighborhoods that attract both homebuyers and real estate investors. These include Florin, East Sacramento, Upper Land Park, South Hagginwood, Midtown, Elmhurst, Tahoe Park, North Highlands, Natomas Park, Rancho Cordova, and South Land Park.
East Sacramento
East Sacramento is a highly coveted neighborhood, offering an array of benefits and amenities that make it a prime location for real estate investment. Its tree-lined streets, well-preserved homes, and overall ambiance create an aesthetically pleasing and welcoming atmosphere. The neighborhood's strategic location provides easy access to popular shopping, dining, and entertainment options, as well as the downtown area.
Upper Land Park
Upper Land Park is a highly desirable neighborhood in Sacramento that offers a superior quality of life, making it an attractive location for real estate investment. The area features well-preserved homes with manicured lawns, picturesque tree-lined streets, and a serene ambiance.
The location of Upper Land Park is also a key advantage, with easy access to downtown Sacramento, popular shopping centers, dining, and entertainment options. The area is also home to highly rated schools, making it a preferred choice for families with children.
South Hagginwood
South Hagginwood is a highly promising neighborhood in the Sacramento real estate market that offers an attractive opportunity for both investors and homebuyers.
Investing in real estate in South Hagginwood is a prudent decision, given the area's increasing demand and potential for property value appreciation. With its affordable homes, convenient location, and strong community spirit, South Hagginwood presents an excellent opportunity for real estate investors seeking to diversify their portfolio in the thriving Sacramento market.