Orlando, with its undeniable charm as a vacation destination, draws in globetrotters from every nook and cranny. Interestingly, this vibrant city ranks as Florida's fourth largest, and it's on an upward trajectory with a steady annual growth rate of 0.5%.
The allure of Orlando isn't just limited to its world-renowned theme parks or its vibrant nightlife. The real charm is in its burgeoning housing sector, a realm that promises both challenges and rewards for the discerning investor.
Orlando's real estate scene has been buzzing, largely due to its flourishing economy and swift development. Beyond its reputation for budget-friendly housing, ample employment chances, and an enviable lifestyle, Orlando proudly stands as one of America's prime tourist magnets.
Orlando Housing Market Overview 2023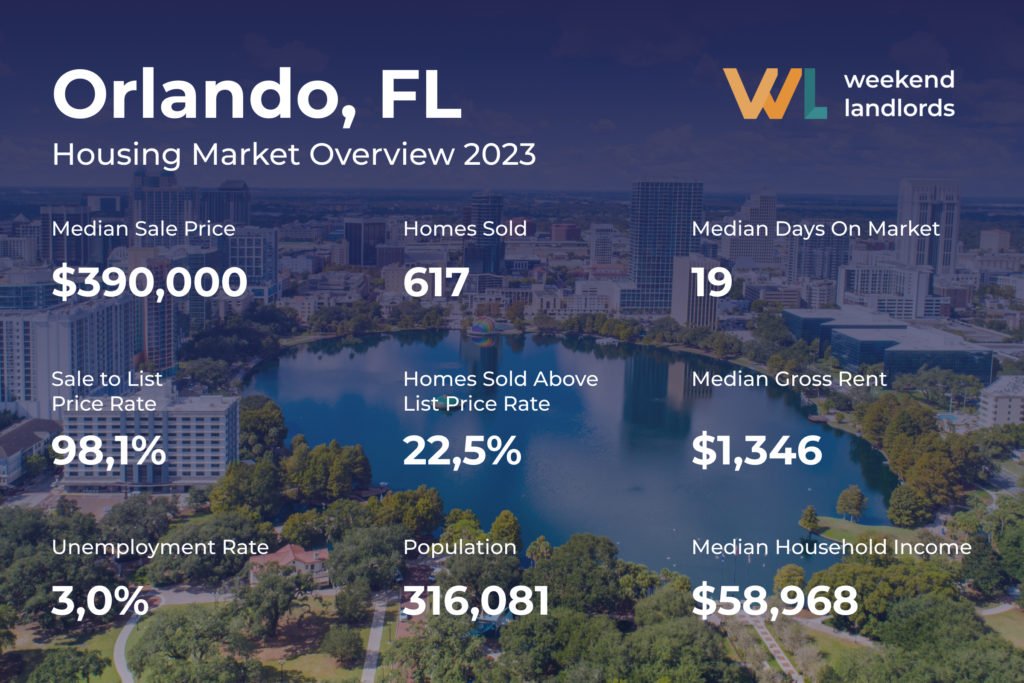 Median Sale Price
In June, the median home price reached $390,000, marking a rise from $370,000 in May. The trend of increasing prices has persisted throughout the year, with the median home prices consistently climbing each month. Notably, since January, there has been a consistent $50,300 surge in the median home price. During this month, the value of homes in Orlando saw a significant increase, rising by 9.1% compared to the same period the previous year.
Median Days on Market
Homes in Orlando are taking longer to sell this year compared to the previous year. The average time on the market has increased by 10 days.
In 2023, purchasing a home in Orlando seems more favorable than in the previous couple of years. However, when determining your budget for a house, it's essential to consider various aspects of the homebuying.
Firstly, assess your overall living expenses. Your mortgage isn't your only significant financial commitment. Are childcare costs on the horizon for you? What about your car installment? And are you settling student debts? It's vital to thoroughly review your budget to ensure you're not overextending yourself.
Secondly, securing preapproval is crucial. After setting a budget, it's essential to confirm its viability with a lender. Being preapproved not only reinforces your budget but also positions you as a genuine buyer in the eyes of sellers.
Lastly, broaden your search horizons. The vastness of the Orlando metropolitan area means property values can vary dramatically.
Reasons to Invest in Orlando Housing Market
Strong Economic Growth in Orlando
The Orlando housing market has become a highly sought-after investment destination, primarily due to the promising prospect of substantial economic expansion.
Boasting a diverse economic landscape encompassing industries such as tourism, technology, and education, the city experiences sustained growth. Consequently, this economic vitality attracts a steady inflow of job-seeking individuals, thereby escalating the demand for housing.
Moreover, the strategic geographical position of Orlando contributes to its investment appeal. Nestled in the heart of Florida, the city enjoys convenient proximity to major transportation hubs and renowned tourist attractions, rendering it an optimal choice for real estate investors. This advantageous location not only facilitates connectivity but also stimulates a thriving rental market, enabling investors to capitalize on a consistent influx of tenants.
High Demand for Rental Properties
At the core of Orlando's housing market success lies its rapidly expanding population. The city attracts a continuous influx of new residents in search of its abundant prospects, sparking a surge in housing demand. This demographic boom not only creates a pool of potential homebuyers but also fosters a robust rental market, providing investors with a stable source of rental income.
Also, the city's thriving tourism industry plays a vital role in bolstering the housing market's potential. Orlando's world-renowned theme parks, entertainment venues, and captivating attractions draw millions of visitors annually. This consistent influx of tourists fuels the demand for accommodation, including vacation rentals and short-term housing solutions. Savvy investors can capitalize on this demand by investing in properties tailored to the needs of tourists, maximizing their return on investment.
Favorable Climate and Lifestyle
Situated in the sunny state of Florida, Orlando enjoys a subtropical climate characterized by mild winters and abundant sunshine throughout the year. This delightful weather creates an inviting ambiance, attracting individuals seeking a comfortable living experience year-round. The allure of warm temperatures and ample opportunities for outdoor pursuits contribute to the market's desirability, thereby increasing the demand for housing options.
Furthermore, the Orlando housing market offers residents an exceptional lifestyle that caters to diverse interests. The region boasts a plethora of recreational amenities, including top-tier golf courses, scenic parks, and serene lakes. Additionally, the city's vibrant cultural scene, renowned culinary establishments, and flourishing entertainment options ensure that residents have access to a vibrant and enriching lifestyle.
Cost-Effectiveness of the Orlando Housing Market
When compared to other major urban centers, Orlando's real estate market stands out for its competitive pricing. However, this affordability should not be misconstrued as a symptom of stagnation or underdevelopment. On the contrary, Orlando's economy is flourishing, and its infrastructure is advancing rapidly, all while keeping property prices within reach for a wider range of investors.
For savvy investors, this presents an unparalleled opportunity. The Orlando housing market not only provides properties at a fraction of the cost compared to other cities but also holds the promise of significant growth. This remarkable combination of affordability and potential for expansion is truly exceptional in today's unpredictable real estate market.