Investors in the Miami housing market can tap into this upward trajectory. The thriving economy of Miami presents a compelling reason to invest in the city's housing market. Miami's economic diversification, population growth, strategic location, and focus on infrastructure development create a fertile ground for real estate investors seeking long-term growth and financial success. By embracing the investment potential embedded within Miami's thriving economy, investors position themselves to unlock rewarding opportunities in the dynamic Miami housing market.
Miami Housing Market Overview 2023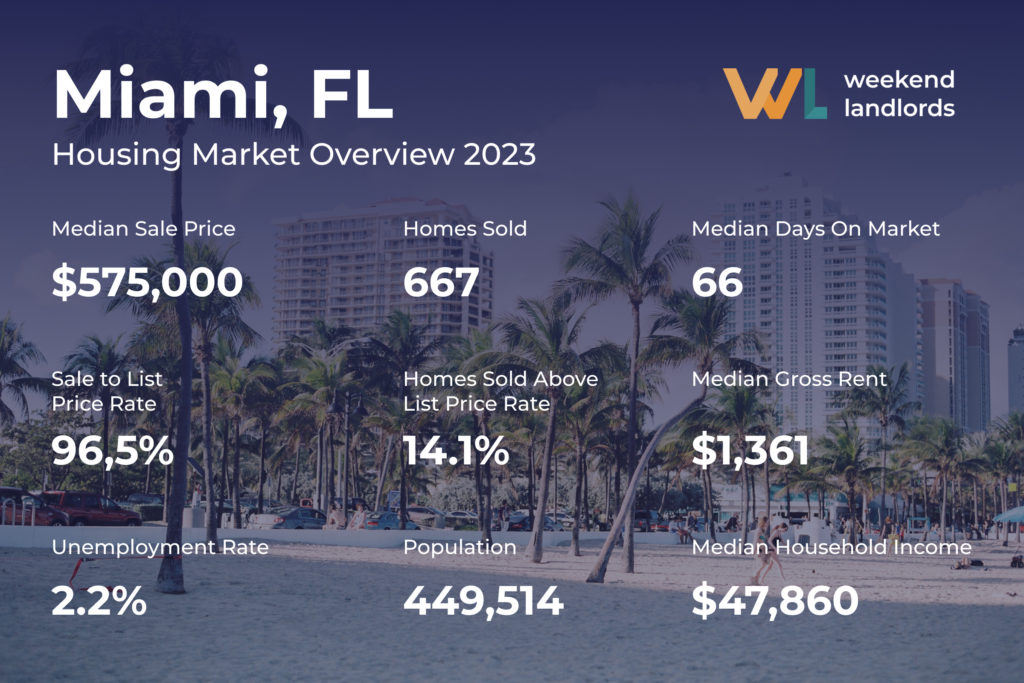 Median Sale Price
According to Redfin, the median price of homes in Miami was $575,000 in April, indicating a 7.5% year-on-year rise, which is a positive aspect of the Miami housing market.
The median home value in Miami has undergone a remarkable transformation in the last ten years. While the median home value was around $201,000 in 2012, the Miami housing market has seen a significant increase. This reflects notable changes in the market, indicating a departure from the past figures.
Median Days on Market
In the Miami housing market, there is a moderate level of competition, resulting in an average selling time of 66 days on the market, up from 49 days last year. Notably, highly sought-after properties can sell near the listing price and swiftly enter a pending status within just 33 days.
Exploring Miami housing market Investment Opportunities: Neighborhoods with the highest real estate appreciation rates
Downtown North
This neighborhood is quickly becoming a hot spot for investors, thanks to its thriving housing market. Property values have been steadily increasing in Downtown North over the past ten years, which bodes well for investors seeking to make a profit.
But Downtown North isn't just a smart financial move. It's also an exciting place to live or visit. There are plenty of restaurants, shops, and entertainment venues to enjoy, ranging from casual eateries to upscale dining options. Plus, Downtown North's location near the beach makes it an ideal spot for those who love the sun and sand.
Beyond the beach, Downtown North also boasts several parks and green spaces where residents can stay active or relax outdoors. There's no shortage of things to do in this vibrant neighborhood.
Also, Downtown North is home to a range of historic properties that have been beautifully restored and updated. These unique properties offer investors a chance to own a one-of-a-kind piece of Miami Beach history while enjoying modern amenities.
Little Haiti South
This area is quickly gaining popularity among investors due to its unique cultural diversity and urban amenities.
Property values in the Little Haiti South area have been on a steady incline, making it a lucrative location for investors seeking a solid investment opportunity. Moreover, the neighborhood's proximity to downtown Miami, Miami Beach, and other desirable locations make it an attractive spot for both residents and visitors.
Apart from its promising market conditions, Little Haiti South also has a rich cultural heritage that draws people from all around the world. The neighborhood is home to a vibrant community of Haitian immigrants and their descendants, who have infused the area with their unique culture, cuisine, and traditions. This rich cultural tapestry adds to the neighborhood's appeal and makes it a standout investment opportunity.
Furthermore, Little Haiti South boasts a range of urban amenities that make it a comfortable and convenient place to live or visit. From trendy restaurants and cafes to art galleries and boutique shops, there's always something new and exciting to discover in this dynamic neighborhood.
Also, Little Haiti South is seeing a surge in new construction projects, including luxury condos and mixed-use developments. These new properties are attracting a younger and more affluent demographic to the neighborhood, which bodes well for investors seeking a profitable investment opportunity.
Downtown Southeast
Downtown Southeast district seamlessly merges residential, commercial, and entertainment spaces, offering an immersive urban experience infused with a rich tapestry of cultural splendor.
With its robust growth and enticing investment prospects, the market presents an array of opportunities for real estate enthusiasts. From contemporary condominiums to exquisite penthouses, the neighborhood showcases a diverse range of housing options to cater to varying preferences and lifestyles.
Beyond its residential appeal, Downtown Southeast thrives as a cultural and entertainment epicenter. As you traverse its vibrant streets, adorned with awe-inspiring murals and sculptures, you are enveloped in the creative brilliance of local artists.
Convenience reigns supreme in Downtown Southeast, with an abundance of amenities at your fingertips. From trendy cafes to upscale dining establishments, the neighborhood offers a tantalizing culinary journey. Boutique shops and vibrant retail outlets line the streets, inviting indulgence in retail therapy. And with Miami's famed beaches just a stone's throw away, residents can revel in sun-soaked leisure activities and thrilling water sports.
Transportation within and around the neighborhood is effortless, courtesy of its well-connected infrastructure.
Overtown North
This neighborhood presents a diverse range of housing options, from meticulously restored historic homes to contemporary condominiums, offering an array of choices to suit varying preferences and lifestyles.
Immersed in a legacy of cultural significance, Overtown North holds a special place in Miami's history as a vibrant hub for the African-American community. The district proudly showcases iconic landmarks like the Historic Lyric Theater, standing as a testament to its rich cultural identity. Preserving its heritage, the neighborhood hosts annual events, captivating art exhibitions, and soul-stirring music festivals that celebrate the diversity and vitality of its vibrant community.
Among the other neighborhoods that have experienced the highest real estate appreciation rates since 2000 are:
Park West
Downtown East
Downtown
Downtown Northwest
Town Square
Downtown Southwest
Compelling Reasons to Invest in Miami Real Estate Market
Miami Housing Market is a Renter-Oriented
One compelling reason to invest in Miami real estate is the significant presence of non-homeowners among the city's residents, making it a ripe opportunity in a renter-oriented market.
Miami boasts a thriving rental sector, making it an attractive destination for astute investors. With a substantial number of renters shaping the local landscape, the demand for rental properties remains consistently robust, paving the way for lucrative cash flow possibilities.
Investing in Miami real estate enables you to seize the opportunity in a renter-focused market, providing a gateway to meeting the current rental demand while positioning yourself favorably for future growth as the population seeking rental accommodations continues to expand.
Strong Economic Growth and Stability
Miami's economic vitality, characterized by robust growth and a diverse range of industries, sets the stage for a compelling opportunity for real estate investors.
The city's economy is experiencing an impressive upswing, with sectors such as tourism, technology, finance, and creative industries thriving. This economic diversification cultivates a dynamic business landscape, fueling job creation and population growth. As a result, the demand for housing is surging.
Additionally, Miami's commitment to infrastructure development and investment in public amenities ensures sustained progress and enhances the city's overall appeal. Projects encompassing transportation expansion, urban revitalization, and cultural institution advancements foster an attractive environment for real estate investment.
Prime Location and Desirable Climate
When considering real estate investment opportunities, the Miami housing market stands out due to its strategic location and seamless access to major markets. Miami's enviable geographical position serves as a catalyst for investors, offering unique advantages and boundless potential.
Nestled in Southern Florida, Miami occupies a prime spot as a gateway to both domestic and international markets. Its proximity to Latin America positions it as a natural hub for trade and business activities, attracting substantial foreign investments and fueling economic growth.
Market access plays a pivotal role in Miami's appeal. The city boasts an impressive infrastructure that includes international airports, well-connected seaports, and an extensive highway network. These critical connections facilitate efficient logistics, bolster trade relationships, and drive economic activity.
Miami's exceptional connectivity and easy access to major markets make it a magnet for businesses, professionals, and tourists. As a result, there is a strong demand for housing, creating a wealth of opportunities for both rental and ownership properties.
Tourism and Short-Term Rental Potential
Miami's status as a premier destination, coupled with the rising demand for unique travel experiences, offers a compelling reason for real estate investors to explore this dynamic market.
Miami's captivating appeal, boasting pristine beaches, a vibrant cultural scene, and a year-round delightful climate, magnetizes millions of visitors worldwide. This steady influx of tourists generates a robust demand for accommodations that go beyond traditional hotel stays. The surge in popularity of short-term rentals creates an ideal avenue for investors to capitalize on the desire for personalized and immersive travel experiences.
By investing in the Miami housing market, investors position themselves to cater to this thriving tourism industry and seize the opportunity to meet the demand for exceptional short-term rental properties. Acquiring suitable properties allows them to tap into the steady cash flow potential and potentially higher rental returns associated with this market segment.