The Florida real estate market is a highly competitive and multifaceted industry that offers a diverse range of residential and commercial properties. With its advantageous location, favorable tax policies, and robust economic fundamentals, the market has continued to be a top destination for both domestic and international investors. However, recent years have been marked by notable fluctuations in the market due to various factors, including the impact of the COVID-19 pandemic, changing supply and demand dynamics, and rising mortgage rates. Despite these challenges, the Florida housing market continues to attract investors and buyers from all over the world, presenting a plethora of opportunities for growth and development.
This article seeks to provide a comprehensive and nuanced analysis of the current trends in the Florida housing market, along with their potential implications for industry stakeholders.
What Is the Housing Market Outlook for Florida 2023?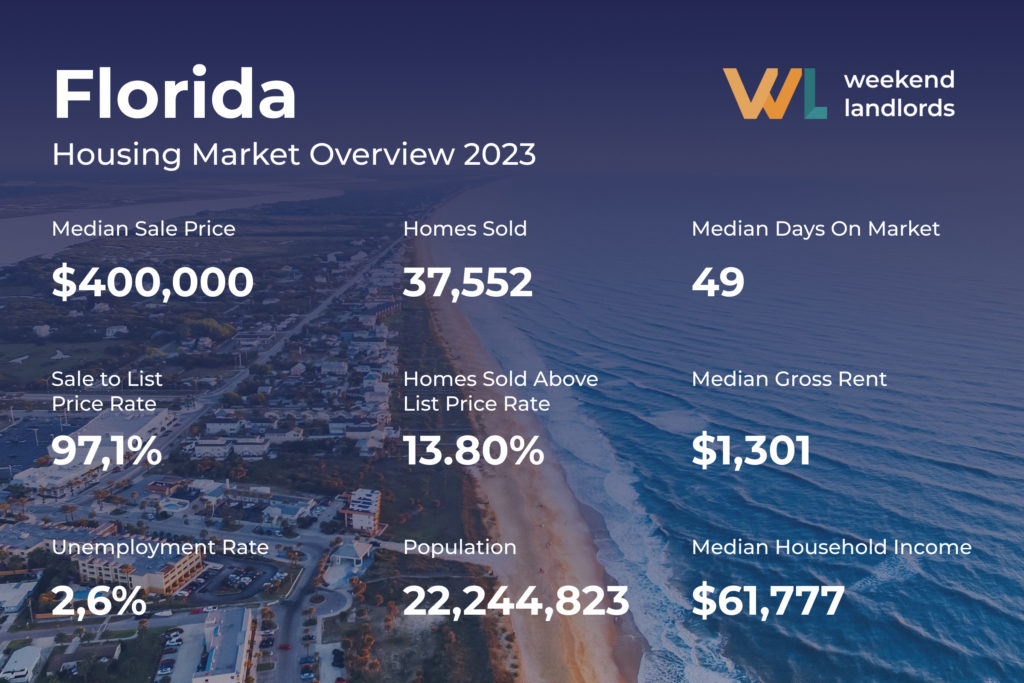 Median Sale Price
A shift in the ratio of active buyers to active sellers has impacted the growth of home prices. As of March 2023, the median sale price for closed existing home sales remained high at nearly $400,000, representing a 3.2% increase compared to the same period the previous year.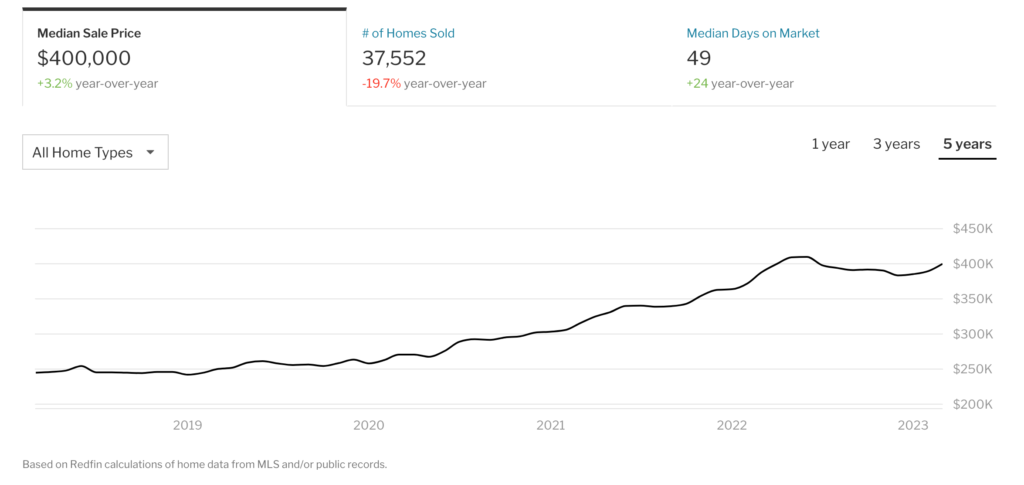 These developments underscore the continued demand for residential properties in the state, despite a changing market landscape.
Median Days on market
In March, the median duration required to secure a contract for a home experienced a substantial surge, reaching 49 days, which is more than twice the average 25-day timeframe observed during the preceding year. This considerable increase in the duration to secure a contract highlights the changing landscape of the real estate market, reflecting evolving dynamics of supply and demand for residential properties.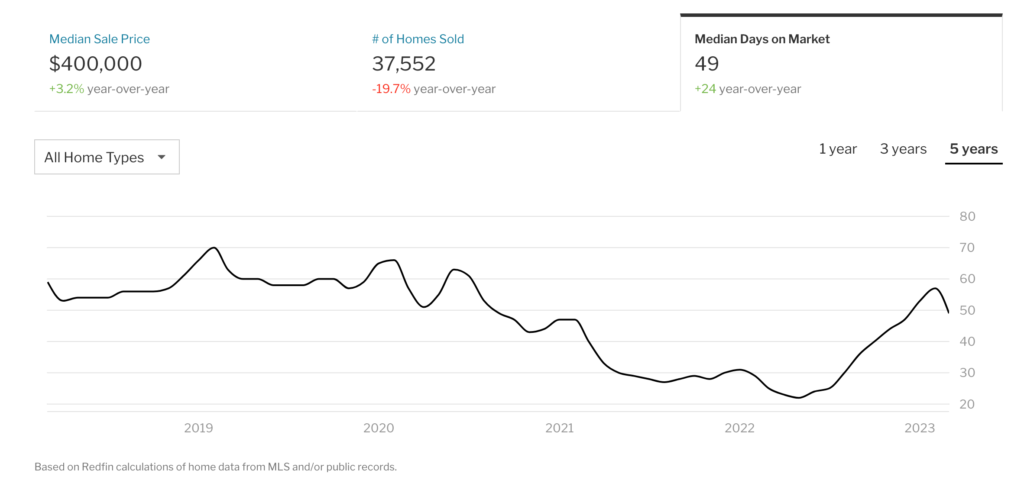 Home Sales In Florida
In March 2023, the latest available data reveals a record low in home sales, with a year-over-year decline of 19.7% in the state. Specifically, only 37,552 homes were sold during the period, reflecting a notable reduction from the 46,784 homes sold during the corresponding period the previous year. This decline in sales can be attributed to rising home prices in the state and the record-high mortgage rates, which have significantly impacted the real estate market.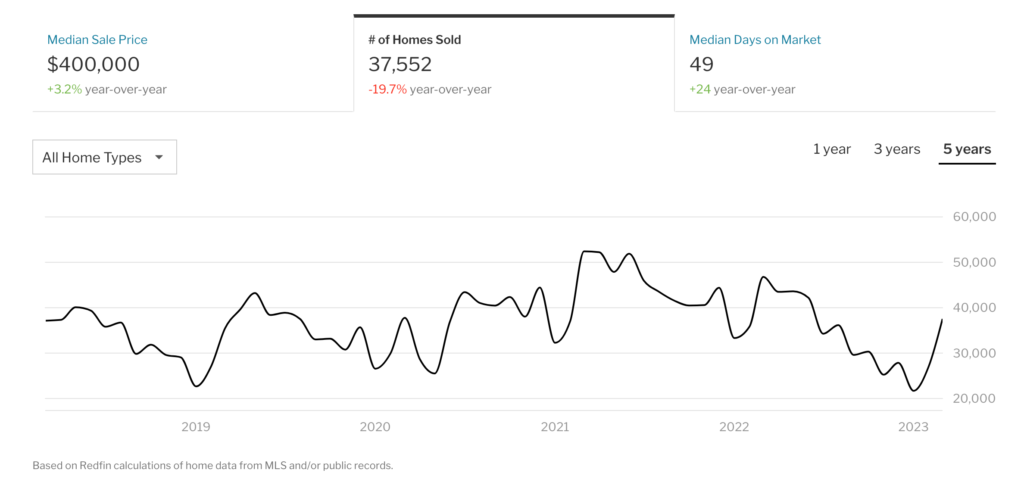 Newly Listed Homes
The real estate market has witnessed a decline of approximately 14.9% in the number of new listings for homes for sale compared to the previous year. This emerging trend signals a notable shift in the supply of residential properties and can have consequential implications for the broader market dynamics and trends in the industry.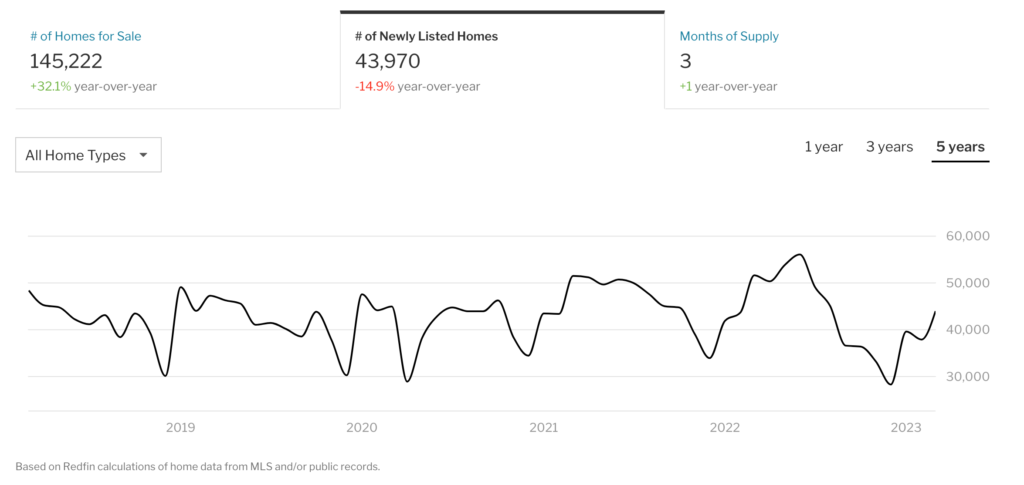 Reasons why Florida real estate market is attractive for investors
Diverse economy, driven by multiple industries, including tourism, technology, and healthcare
The state's robust tourism industry generates billions of dollars in revenue annually, presenting significant investment opportunities in the hotel, resort, and vacation rental sectors. Additionally, Florida's rapidly expanding technology sector has attracted numerous tech firms, creating a strong demand for commercial real estate investment.
High quality of life with numerous recreational and outdoor activities available
The state's pristine beaches and vast green spaces offer residents and visitors a diverse range of outdoor activities to enjoy throughout the year. Florida's warm and sunny climate promotes an active outdoor lifestyle and enhances the overall sense of well-being among its residents. The state's cultural richness, featuring renowned museums, theaters, and cultural institutions, makes it an attractive destination for those who appreciate the arts and cultural experiences.
An attractive climate, with mild winters and year-round sunshine, that draws individuals seeking a more desirable living environment.
Florida's favorable climate, featuring mild winters and abundant sunshine year-round, presents an attractive opportunity for real estate investment. The state's comfortable weather conditions entice individuals seeking a more desirable living environment, particularly those wishing to escape harsher climates in other parts of the country. Florida's agreeable climate supports an active outdoor lifestyle and enhances residents' quality of life with ample recreational opportunities available throughout the year.
A well-established and diverse rental market, offering various options for investors seeking to generate cash flow through rental properties.
The state offers a broad range of rental properties across various categories and price points, including vacation rentals, single-family homes, and apartments. Florida's thriving tourism industry drives a robust vacation rental market, providing investors with an appealing opportunity to invest in short-term rental properties.
The availability of attractive incentives and grants for real estate investment, such as the opportunity zones program, provides investors with additional financial support and incentives to invest in the state's real estate market.
Florida's real estate market is a highly coveted destination for investors, largely because of the range of incentives and grants available. The opportunity zones program, specifically, incentivizes private investment in economically disadvantaged areas throughout the state. By providing significant tax benefits, such as capital gains tax deferral, and reduction, the program offers investors a valuable opportunity to reinvest in designated opportunity zones.
What are the biggest problems of living in Florida?
While Florida is a beautiful state with many attractive features, there are also some challenges associated with living there. Some of the biggest problems of living in Florida include:
High cost of living
The interplay of elevated property values, taxes, and expenditures culminates in an expensive standard of living in these regions, where housing costs represent a substantial and critical element. With rents and home prices in these areas surpassing the national average, a large segment of the population contends with an acute financial burden. Furthermore, the cost of utilities, groceries, and healthcare services can also be exorbitant in these regions, exacerbating the already high cost of living. This financial strain disproportionately affects low-income individuals and families, who may struggle to meet their basic needs.
Crime
Florida's high crime rates pose a significant and multi-dimensional challenge for its residents, particularly those residing in urban areas. While crime rates differ depending on location, Florida's violent crime rate exceeds the national average, characterized by an alarming occurrence of robbery, assault, and homicide. Additionally, property crime, including theft and burglary, presents a pervasive threat to residents. This extensive and concerning prevalence of criminal activity can severely impact residents' quality of life, inducing feelings of insecurity and fear.
Poor healthcare system
The scarcity of healthcare professionals, particularly in rural regions, poses a significant obstacle to accessing medical services. Moreover, a significant proportion of Floridians lacks health insurance, rendering it difficult to afford medical care, medications, and treatments. Additionally, the state's aging population presents a unique set of complexities, with a considerable number of elderly individuals requiring specialized care for chronic health conditions.
Lack of public transportation
Unlike other states, Florida lacks a comprehensive public transportation system that can seamlessly connect its residents to various parts of the state. Consequently, this inadequacy poses formidable challenges to individuals without access to cars or the ability to drive, hindering their ability to attend work or school, access healthcare, or participate in recreational activities. To overcome these challenges, many Floridians are left with no choice but to resort to private transportation options, which are often expensive and time-consuming.
Tourist crowds
Florida's thriving tourism industry serves as a vital economic engine, attracting millions of visitors each year, particularly during peak vacation periods. However, the elevated volume of tourist traffic can pose a range of consequential disadvantages for residents. Specifically, overcapacity at popular attractions can result in traffic congestion, extended wait times, and price inflation for goods and services. Furthermore, the influx of tourists can cause amplified noise pollution and littering in some areas, eroding the quality of life for nearby residents. Coastal regions, where visitors gather for beach and waterfront activities, are particularly susceptible to these issues.