Being an effective landlord or property investor involves mastering some basic techniques and establishing an entrepreneurial mindset with regard to managing rental properties. To maximize profit on your investment properties, you should too know about different time and money-saving strategies.
As almost 90% of the millionaires around the globe have generated their wealth by investing in real estate, so the potential of this industry is hard to ignore. So if you've already started in the property management business, you might be looking for helpful tips on how to build real wealth with little effort. The truth is, that doesn't exist. You have to go beyond simple rental management and start applying your landlording skills and utilizing specific tools to get the most out of your rentals.
Time-saving strategies
The landlords with multiple properties are well-aware of the importance to optimize their time and build the habit to delegate minor tasks. Even if at this time you're an owner of just one or two units, who knows how your rental portfolio will look like in a couple of years. That's why it's better to adopt time management techniques when you have less tasks on your daily checklist so that you can easily adjust to the changes of your work routine.
Did you catch yourself thinking that you could be more productive throughout the day: resolving more maintenance requests, contacting more tenants, organizing more paperwork? Bet that happens pretty often. But with the help of these few tips, managing your time will be easier than you think. All you need to do is to:
Plan the week ahead.
Record all the tasks for the week and categorize them according to priority. If there are any urgent issues, resolve them immediately to avoid extra work later on. Then move to less critical tasks and the ones that require your full concentration. You might also want to create your own schedule that would fit your lifestyle.
Practice digital detox.
To renew your energy, consider digital detox at least once a week. Spend the whole day without checking your social media and scrolling news feeds. This will make you feel less anxious and help you recharge.
Delegate the tasks.
First-time landlords often find it difficult to decide which tasks can be delegated and what should be performed solely by themselves. But if you have a team you trust, anything can be assigned to them, even rent collections.

Note: service professionals are always better at fixing damages in the rentals unless you have practical experience in the area.
Set up digital payments.
When using online payments, you don't have to worry about a check that doesn't show up or is lost somewhere in the spam box. Also, you can keep track of the transactions and check the details anytime you want.
Money-saving strategies
Along with time-saving tips, let's take a look at the three basic money-saving solutions for landlords and property owners:
Free rental management tool.
There are so many good property management software systems out there that you will definitely find the one that meets your requirements. First off, opt for a free tool to test it out and then move to an upgraded version with a more vast functionality. The most popular features the landlords pay attention to in the rental management tools are built-in accounting, maintenance management, and online payment options.
Screen tenants thoroughly.
A screening check allows you to select the most reliable long-term tenants and thus minimize the risks of property damage and non-payment of rent as well as reduce vacancy rates. Online screening tools usually offer paid services, but it's worth running background and credit checks on prospective renters to avoid painful evictions in the long run.
Put money aside.
Putting money aside for a rainy day is a useful habit not only for landlords but for anyone. You might want to save for a down payment for your next investment property or start an emergency fund. Just make sure you deposit a fixed amount to your savings account each month.
It's recommended to save up to 20 percent of your monthly income. But you can define any amount you find reasonable.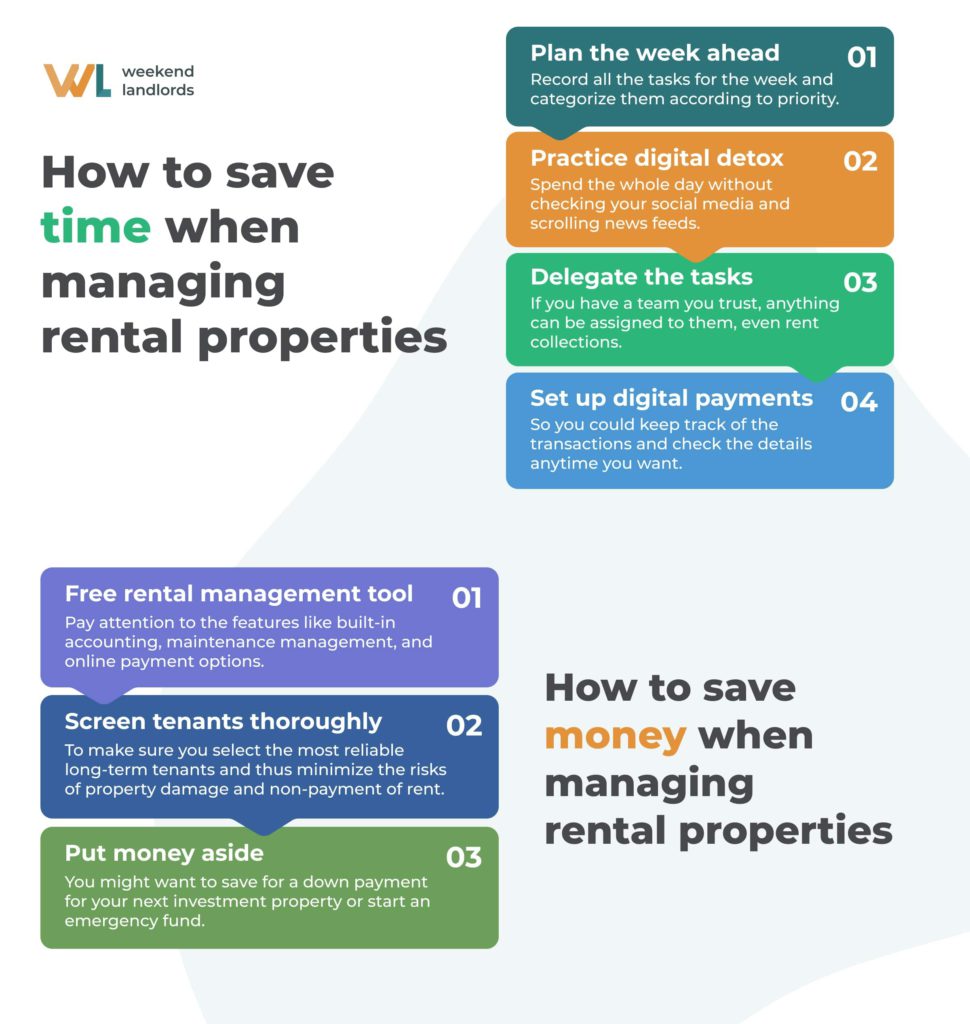 What are your personal time- and money-saving techniques? How do they help you better manage your rental properties?