In today's fast-paced rental market, staying ahead of the competition and maximizing your profits is crucial.That's where the property management software comes into play. Forget the days of drowning in paperwork, struggling with organization, and juggling countless tasks. With property management software, you can streamline your operations, automate time-consuming processes, and unlock a realm of efficiency and profitability like never before.
Also, you gain access to invaluable insights that empower you to make informed decisions. By leveraging its advanced analytics and reporting features, you can identify trends, optimize rental pricing, and make data-driven choices that boost your bottom line.
Our team has extensively researched the rental management software options in the market, ensuring that you can confidently concentrate on operating your business. Regardless of whether you oversee a small number of properties or a sprawling commercial enterprise, we have the perfect solutions to meet your needs.
How Does Property Management Software Work?
In the dynamic landscape of real estate, property management software has emerged as an indispensable tool for landlords, property managers, and industry professionals. This advanced software solution brings forth a revolution by streamlining and automating various aspects of property management, transforming the way tasks are accomplished.
At its core, property management software serves as a comprehensive digital platform meticulously crafted to simplify and optimize property management operations. With a plethora of tailored features and functionalities, this software acts as a centralized hub, providing a seamless solution for managing diverse tasks under one roof.
One of the focal points of property management software lies in its ability to facilitate effective tenant management. By seamlessly handling tenant onboarding, lease agreement management, and rent collection, this software significantly reduces administrative burdens. Through automated rent payment reminders, invoice generation, and tracking of outstanding balances, landlords and property managers can efficiently handle tenant-related affairs.
Moreover, property management software encompasses robust accounting capabilities, enabling users to monitor income and expenses meticulously. With its ability to generate comprehensive financial reports and offer real-time insights, the software empowers property owners and managers to make informed decisions based on accurate financial data.
Buildium Property Management Software Comparison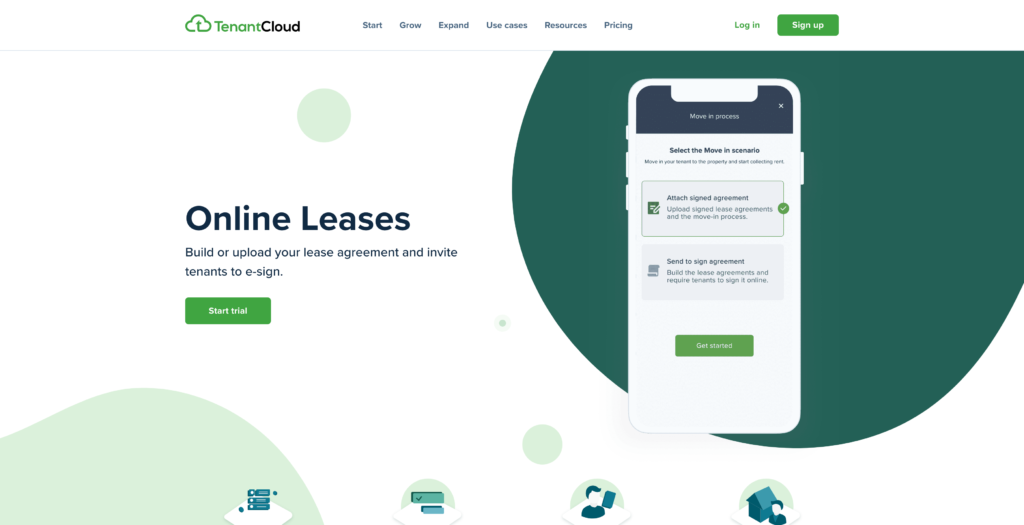 TenantCloud is a powerful property management software that can save landlords time and money.
TenantCloud specializes in managing properties for new landlords and property managers on a tight budget, offering tiered pricing and additional add-on options to suit different needs. It is an excellent choice for landlords managing less than 500 units.
The software provides a range of features, including cloud storage, e-signatures, templates, online payments, tenant screening, rental reports, and market trend data. These features can help landlords manage their properties more efficiently.
With TenantCloud, landlords can select the ideal tenants, schedule tours, and run customized background checks. Rent collection is simplified, with payments made online and deposited directly into bank accounts. Tenants can also set up recurring monthly payments, ensuring that rent is always paid on time.
Overall, TenantCloud is a user-friendly and cost-effective property management software that can help streamline the process for landlords.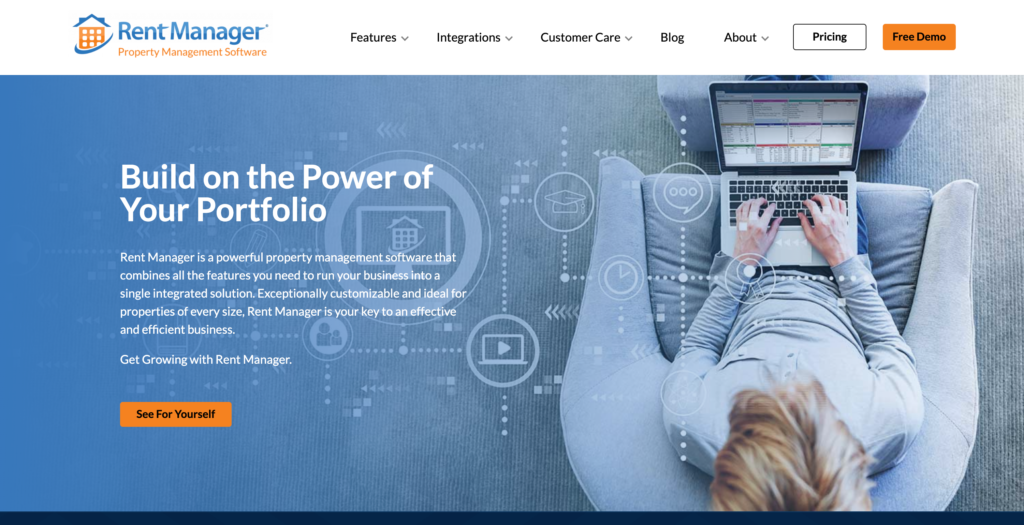 Rent Manager is a highly advanced and comprehensive property management software solution that caters to businesses of all sizes and portfolios, including residential, commercial, and short-term-stay properties. It offers an all-in-one solution that provides a wide range of fully customizable features, enabling businesses to streamline their operations and optimize their performance.
The software is equipped with a double-entry accounting system, maintenance management/scheduling, marketing integration, mobile applications, over 450 insightful reports, and an API that integrates with the best PropTech providers in the market. With its powerful features, Rent Manager is an ideal tool that can support large portfolios while also providing the flexibility to customize each individual unit, making it suitable for both global enterprises and small businesses that manage various types of properties.
Rent Manager provides flexible platform options, including Rent Manager Online and Rent Manager Express, as well as intuitive mobile tools like rmAppSuite Pro and rmResident, enabling users to access their data from anywhere. They can complete inspections, accept payments, run reports, communicate with tenants, and perform other crucial tasks while on the go or in the office.
The Rent Manager pricing model is complex and includes two pricing models: per unit, per month, and pricing tiers for each of its multiple software versions. This model provides businesses with greater flexibility to tailor the software's pricing to meet their specific needs and budget.
Overall, Rent Manager is an innovative and comprehensive property management software solution that empowers businesses to streamline their operations, gain valuable insights, and enhance communication and collaboration with tenants. With its fully customizable features and flexible pricing model, Rent Manager is a practical and powerful solution for businesses of all sizes looking to optimize their property management operations.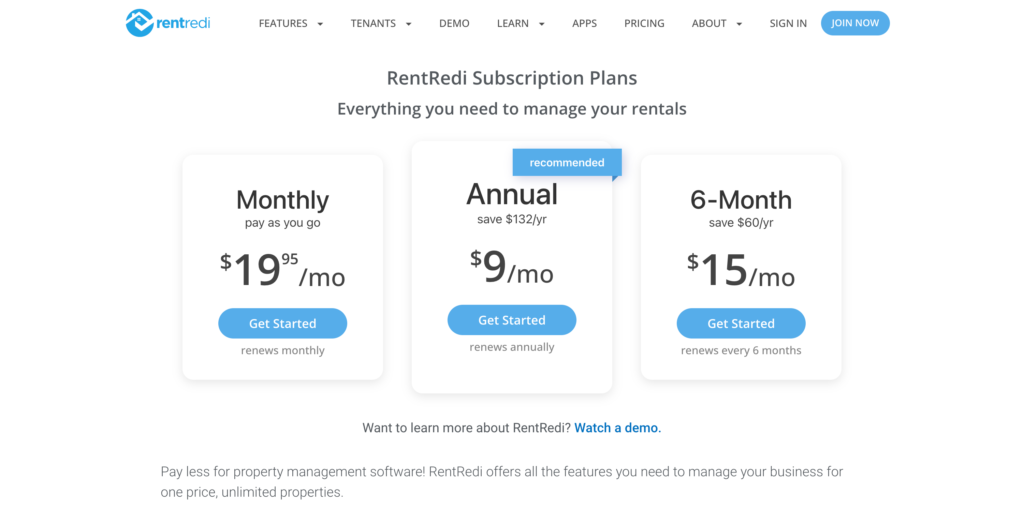 RentRedi is a cutting-edge mobile landlord application that offers a sophisticated and user-friendly platform for landlords and property managers to streamline their operations. With its comprehensive suite of features, including tenant screening, online rent collection, and listing syndication to Realtor.com, Doorsteps, and RentRedi, RentRedi is a versatile solution suitable for a range of property management needs. Moreover, the Latchel landlord maintenance software partnership offers an additional hands-off maintenance coordination feature for a fee.
RentRedi's intuitive dashboard is designed to provide landlords with real-time updates, empowering them to remain informed and take swift action. The dashboard enables property managers to track tenant statuses, send reminders for rent payments, and schedule maintenance activities.
RentRedi's cost-effective flat fee structure for unlimited properties, starting at $19.95 per month, provides an affordable solution to property management. Furthermore, subscribers to the six-month or annual plan can enjoy additional savings. However, maintenance coordination and tenant screening reports are available at separate fees. RentRedi charges tenants $35 for tenant screening services.
Overall, RentRedi's cutting-edge mobile app, intuitive dashboard, and cost-effective pricing make it an ideal solution for property managers who seek an intuitive and comprehensive platform for managing their properties efficiently.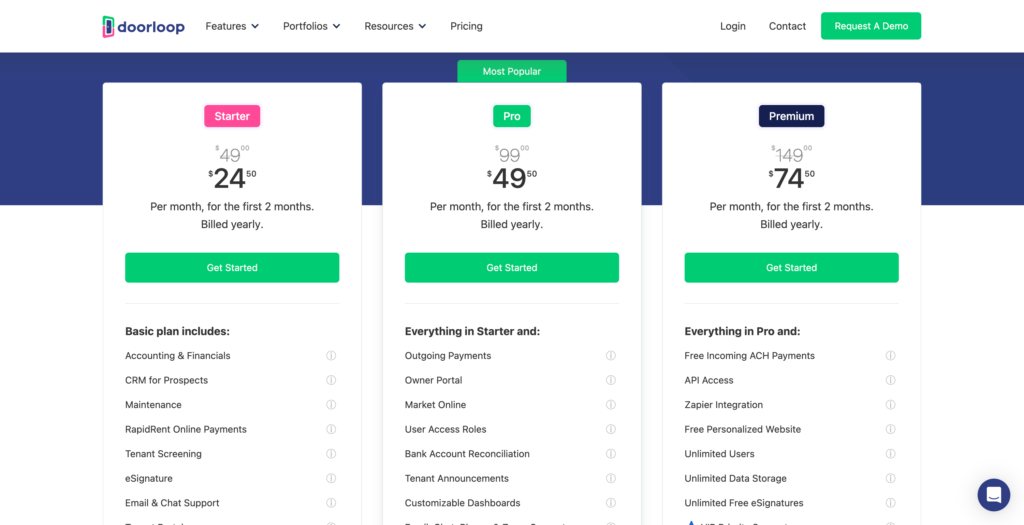 DoorLoop is a comprehensive and feature-rich property management software solution designed to empower property managers with a suite of tools that can efficiently manage their properties, regardless of the number of properties in their portfolio. DoorLoop caters to various property types, including rental properties, commercial properties, condos/HOA, and more, providing a centralized platform to streamline management operations.
What sets DoorLoop apart from its competitors is its ease of use, making it an ideal choice for property managers who desire an intuitive software solution. Its user-friendly interface and design offer unmatched ease and simplicity, positioning it as the most accessible software solution available in the market, regardless of property managers' levels of experience.
Despite its user-friendliness, DoorLoop does not compromise on features, offering a comprehensive suite of functionalities to streamline all aspects of property management operations efficiently.
Moreover, DoorLoop is a cost-effective solution that addresses one of the most significant concerns in the property management software market, pricing. Its pricing structure starts at just $59 per month, billed annually, for up to 20 properties, making it a feasible option for property managers with different budgetary constraints.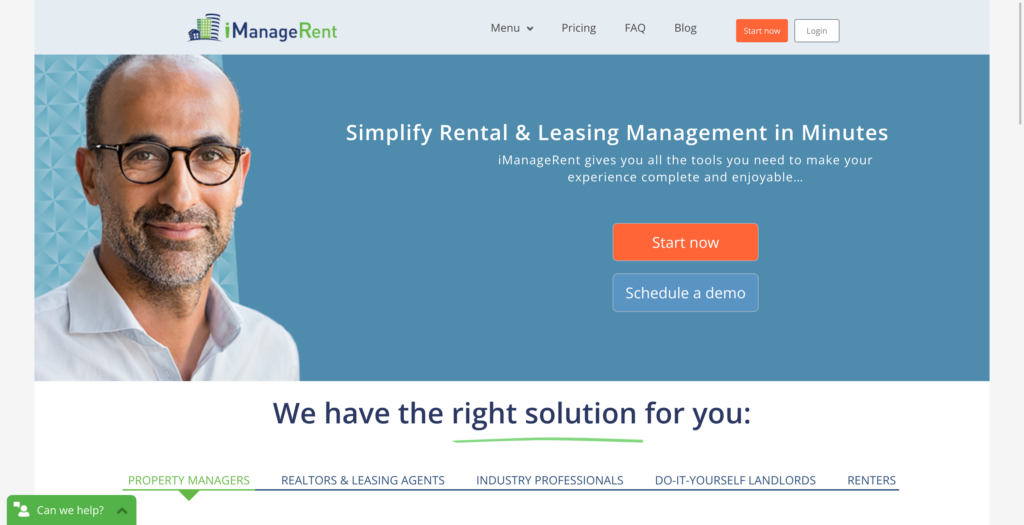 iManageRent is a feature-rich cloud-based property management software solution that caters to landlords and property managers managing single or multiple properties of any size. The platform provides a comprehensive set of features, including online listing syndication on 14 different sites, tenant screening, rent payments, security deposit accounting, document storage, maintenance management, and more.
With its user-friendly interface and exceptional customer service, iManageRent has earned high customer reviews. The cloud-based platform offers flexibility and accessibility, allowing users to access their data and perform essential tasks from anywhere with an internet connection.
iManageRent's unique pricing model charges per feature, per month, starting from $9.95 per month for the basic package, which includes the most essential features. The pricing increases with the number of units, making it an affordable solution for smaller portfolios.
In summary, iManageRent is an ideal cloud-based property management software solution that provides landlords and property managers with the necessary tools to streamline their operations, increase productivity, and improve their tenants' overall experience. With its extensive feature set and flexible pricing model, iManageRent is a practical and cost-effective solution for businesses of all sizes looking to optimize their property management operations.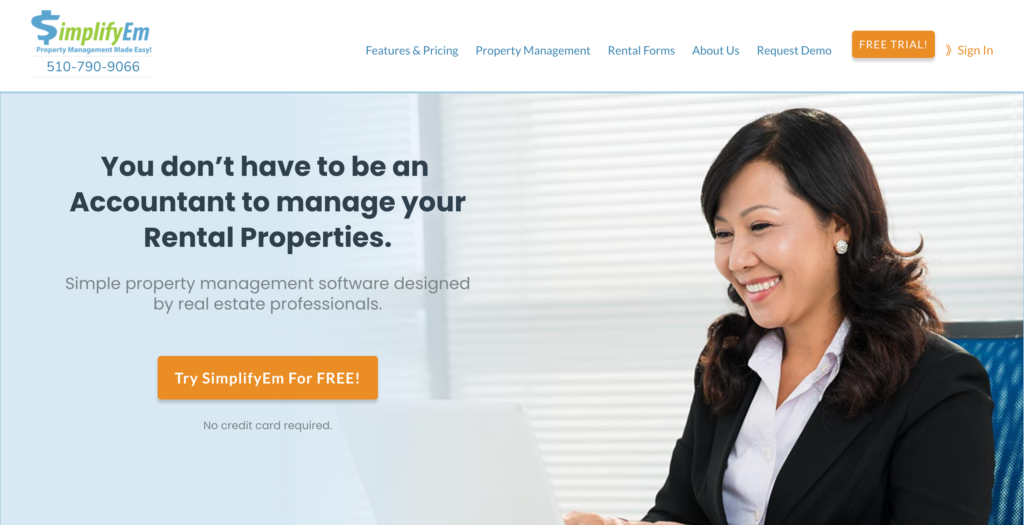 SimplifyEm is a sophisticated and all-inclusive property management software solution designed for small to mid-sized landlords and property managers looking to streamline their property management processes. This cloud-based platform offers an extensive set of features, including property accounting, tenant management, lease tracking, bank reconciliation, maintenance scheduling, and vendor management, all of which have been designed by experienced real estate professionals.
SimplifyEm's affordable pricing and user-friendly interface make it an ideal solution for landlords managing fewer than ten properties.
While SimplifyEm caters to smaller portfolios, certain features are only available to those managing over 50 units, such as creating owner and tenant portals, managing bank accounts, and sending automated rent reminders. Additionally, the platform charges "per use" fees for advertising listings and collecting rent payments online for those with under 50 units.
SimplifyEm's pricing model is based on unit count, starting at $25 per month for up to 10 units. Some features, such as communication history, Quickbooks export, and work orders, are not included for unit counts under 50. For landlords with less than 50 units, online rental applications cost $3, and vacancy advertisements cost $3 per listing.
Overall, SimplifyEm is an exceptional and cost-effective property management software solution that provides landlords and property managers with the necessary tools to optimize their property management processes. With its flexible pricing and extensive feature set, SimplifyEm is an ideal choice for small to mid-sized businesses seeking to improve their property management operations.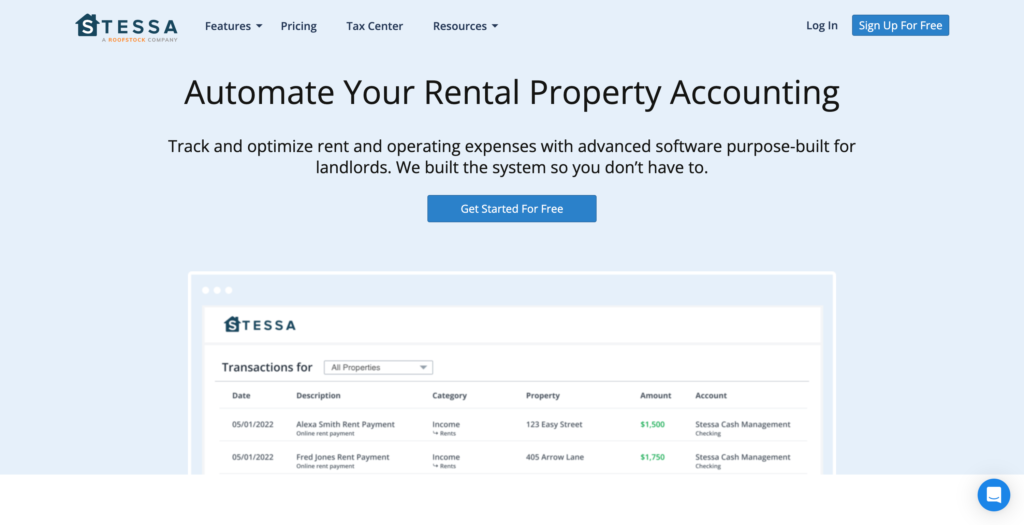 Stessa is a sophisticated and comprehensive property management tool designed to help real estate investors and managers optimize the performance of their rental properties. This web-based platform offers a suite of advanced tools, including smart money management, automated income and expense tracking, and personalized financial reporting, to help investors maximize their profits.
Stessa is compatible with both Windows and Mac devices and is available for free. While it does have certain limitations, this software is ideal for real estate professionals who want to streamline their operations and focus on key metrics to manage their assets and track their finances.
Stessa's impressive feature set includes a robust document management center, the ability to scan receipts, and a comprehensive reporting tool that enables users to generate various reports, including balance sheets, cash flow statements, rent rolls, and IRS-ready tax statements. Additionally, Stessa offers fully automated bookkeeping and financial tracking that syncs with bank and financial accounts connected to rental properties.
Overall, Stessa is an exceptional property management software solution that provides real estate investors and managers with the necessary tools to maximize the performance of their rental properties. With its advanced feature set, automated financial tracking, and personalized reporting tools, Stessa is an ideal choice for those seeking to optimize their rental property investments.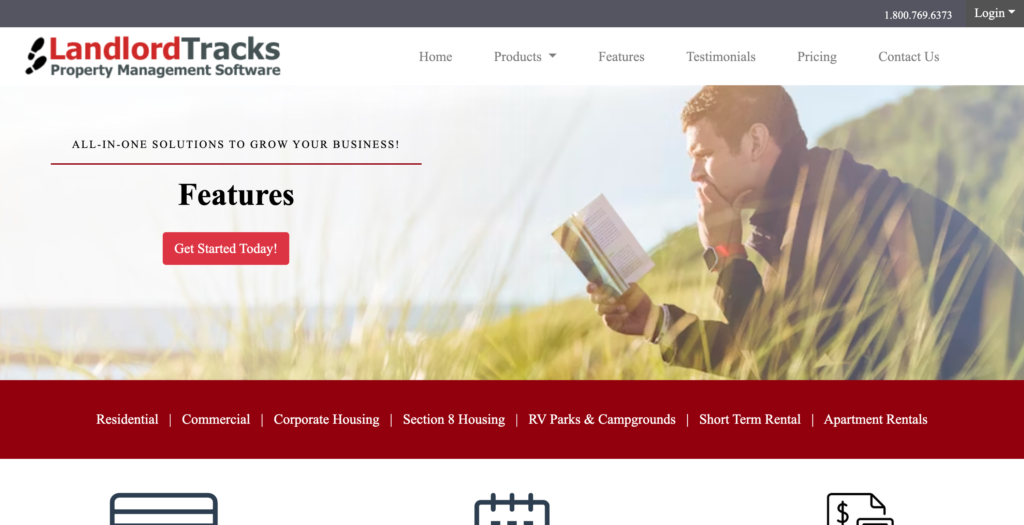 LandlordTracks is an advanced web-based property management software solution designed for managing both residential and commercial properties, including apartments, condos, houses, and retail centers. This comprehensive platform provides a wide range of tools to automate every aspect of property management, empowering property managers to enhance their efficiency and productivity.
The key features of LandlordTracks include automatic rent collection and owner disbursements, automatic vacancy listings, background checks, accounting, online payment management, and communication tools. The accounting functions include financial reports, utility billing, 1099 tax filing, automated recurring transactions, recurring invoices, and printable checks, enabling users to keep track of all financial details of their business effortlessly.
Moreover, LandlordTracks provides an applicant portal that enables potential tenants to submit their applications online, and allows users to post vacancies to various listing partners like Rent.com, Trulia, Zillow, Hotpads, and Yahoo. The software's calendar feature lists essential details such as lease expiration, rent increases, invoice due dates, and work order due dates, among others. Users can also store important documents such as lease agreements, amendments, and other materials, making them publicly available.
To ensure greater convenience, LandlordTracks offers mobile apps for iOS and Android, enabling users to access all the software's features on-the-go.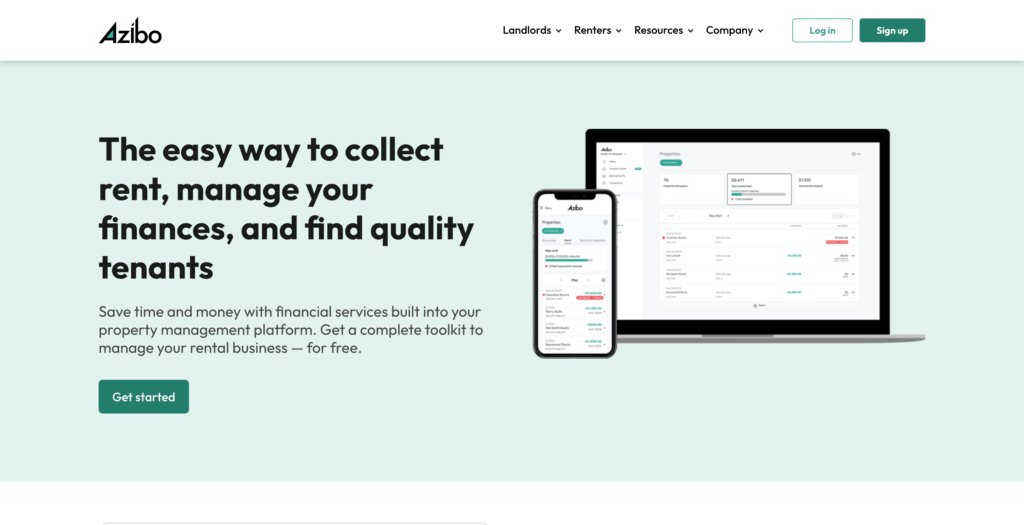 Azibo is a comprehensive financial platform designed to provide a one-stop solution for landlords and property managers. The platform offers a range of services, including free rent collection, banking, tax assistance, insurance and loan marketplaces, and more.
Azibo offers various coverage options, including property protection, liability protection, loss of rent, personal contents, and umbrella coverage. One notable feature of Azibo is their policy review service, where their licensed team of insurance agents can review your entire portfolio of policies and provide recommendations on the best options for you.
In addition to offering landlord insurance options, Azibo also provides a suite of accounting and financial management features developed specifically for landlords and property managers. These features include the ability to send and schedule payments via ACH, paper checks, or wires, tag and split transactions with 120 pre-built tags, real-time reporting with multiple pre-built reports, landlord-specific tax packet for easy tax document preparation, and an unlimited number of LLCs under one account.
While Azibo offers several free core features, there are fees associated with the landlord bank account, such as a $35 fee for insufficient funds, a $30 stop payment fee, and a $10 returned item charge. Additionally, there is a 2.99% fee for tenants who opt to pay rent via credit card.
Azibo generates revenue through earning interest on cash balances held in landlord bank accounts, tenant screening services, transaction fees on credit card payments, and percentage commissions on insurance and marketplace offerings. Their pricing page provides a detailed breakdown of the costs for the services they offer.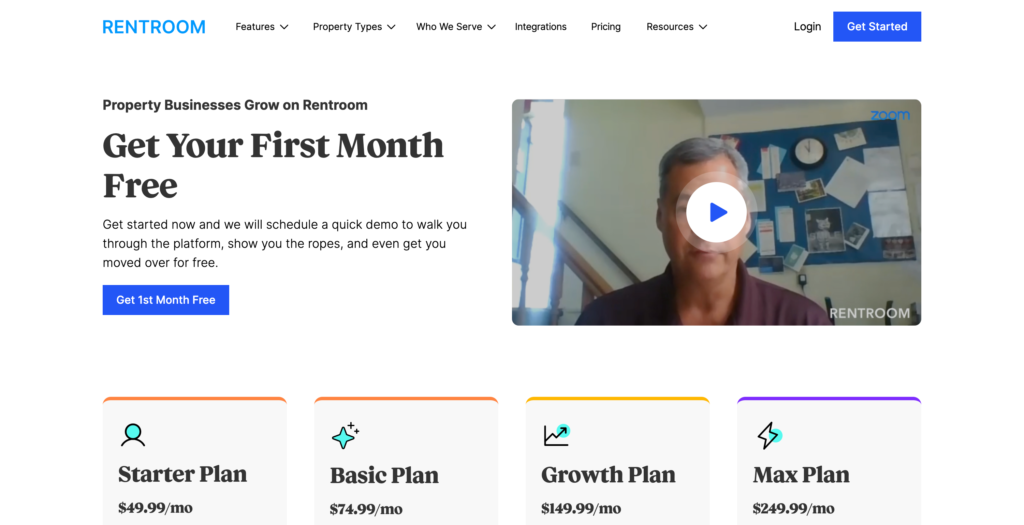 Rentroom is a comprehensive property management software platform that streamlines the administrative tasks of property businesses. The platform is designed to automate rent collection, maintenance, communication, leasing, accounting, and other essential tasks, thereby reducing the administrative burden on property managers. Rentroom can manage portfolios of all sizes, from one unit to multiple properties.
Rentroom's automation tools save an average of 20 hours per month for users, making it an ideal solution for landlords and property managers looking to improve the performance of their portfolios. The platform also offers mobile apps for Android and iOS, enabling users to work anywhere.
Rentroom's pricing is affordable, starting at $75 per month. The service includes free onboarding, unlimited support and Zoom calls, and a dedicated account manager. Rentroom also emphasizes customer support and training, distinguishing itself from competitors in the market.
One of Rentroom's unique features is its automatic logging of tenant payments and accounting report updates, which is especially beneficial for property managers who use QuickBooks. Rentroom also offers features such as rent collection, maintenance ticketing, and reporting automation.